Priscilla Totiyapungprasert Arizona Republic
(CNT) City News And Talk #arizona
Two years ago, business owner Emily Spetrino faced what she called a "nightmare time."
After speaking out against police brutality at a Phoenix City Council meeting, people doxxed her on Facebook, called her staff with death threats and protested fundraisers held at her Phoenix restaurant.
But for Spetrino, the support outweighs the backlash. She and her wife, Elle Murtagh, and their business partners, Liz and Juan Tavarez, own The Coronado and Dark Hall Coffee in Phoenix.
They are among the minority of restaurant and bar owners in Arizona who express political views at their establishments. Common advice would discourage them from mixing politics with business — especially in a volatile year when an election, a pandemic and mass protests collide.
But when people's livelihoods are connected to the ballot, some feel there's more at stake than losing customers.
"We've experienced more good from having a voice in Arizona than we have bad," Spetrino said. "For us, a lot of times it's not a choice. What's happened in this administration directly affects us, people that look like us, our community."
How some businesses are embracing politics
Some business owners are getting into the election spirit without attaching themselves to any particular party or candidate.
On social media, Aloha Tea & Coffee in Glendale encourages customers to choose between a blue "Biden" iced drink and red "Trump MAGA" iced drink and then let them know which is better.
Beckett's Table and Southern Rail restaurants in Phoenix took a lighthearted approach by putting up campaign-style signs with phrases such as "Beckett's Table for Short Ribs" and "Southern Rail for Dinner / Dine Local."
FOUND:RE hotel in Phoenix is hoping to woo customers by offering election-themed room packages that come with a "Vote" tote bag. The hotel's restaurant Match Market & Bar is also offering election-themed breakfast, with blue lemon ricotta waffles and red shakshuka.
Charlie Levy, owner of the downtown Phoenix club Crescent Ballroom, is using its resources during the pandemic closure to encourage people to vote. Crescent's social media guides its followers to websites where they can get more information on causes and election-related information.
Crescent Ballroom also put together a nonpartisan "Everything You Need to Know About Voting in 2020: An Easy Guide by Crescent Ballroom," which is available on its website.
"So we just want to make sure that people that are first-time voters or that don't vote all the time aren't intimidated and can get information in one place pretty simply," Levy told The Arizona Republic earlier this month.
These restaurants took stronger stances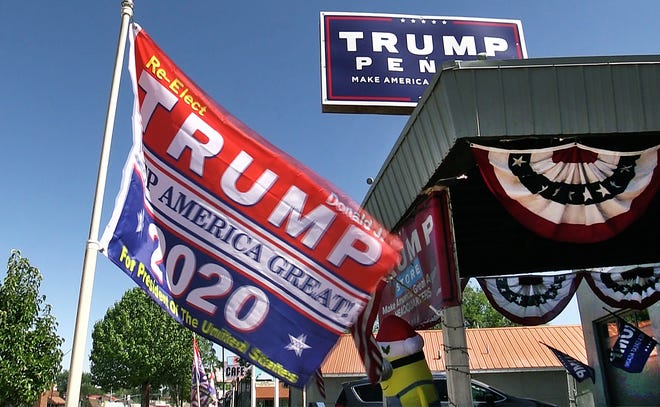 But for other business owners, politics has become a part of their public identities.
At the Trumped Store & Coffee House in Navajo County, customers have to walk past Trump ball caps, flags and T-shirts to order their lattes in the back. The store opened in 2016 as a Trump election headquarters in Show Low and clubhouse for Trump fans.
The retail store saw a drop in foot traffic in the spring when events were canceled. But the coffee shop saved the business, co-owner Steve Slaton told The Republic in April. Slaton said he thought Trump was handling the COVID-19 crisis well, although he believed Trump relied too much on medical advisers such as Dr. Anthony Fauci.
After speaking out 10 years ago against the anti-immigration policy SB 1070, Barrio Cafe owner Silvana Salcido Esparza said there was no turning back. The Phoenix chef recently appeared in several campaign videos for presidential candidate Joe Biden.
So much of the restaurant industry, from the farm to the restaurant itself, relies on immigrant labor — she just can't vote for someone who demonizes immigrants, she told The Republic earlier this month.
Her opinions have cost her customers, which is why chefs tend to play it safe, Esparza said.
But for some restaurant owners, such as Betty and Jorge Rivasof Sammy's Mexican Grill, picking a side has also provided a boost in publicity during the pandemic when many restaurants are taking a financial hit.
Take a look at the Facebook page for Sammy's Mexican Grill and there's no mistaking where the couple's loyalties lie. For at least the last several months, almost every post on their restaurant's Facebook page expresses enthusiastic support for President Donald Trump.
Sammy's Mexican Grill, located just north of Tucson, was thrust in the spotlight in March this year when the owners were photographed at a Trump rally and the president raved about the restaurant on Twitter.
More recently, the couple shared photos of themselves attending a "Latinos for Trump" event, as well as posts promoting other conservative politicians, from former Sheriff Joe Arpaio to Kelli Ward, chair of the Arizona Republican Party.
The couple also appeared in a Spanish-language campaign video for the president's reelection bid, with Betty donning a straw cowboy hat that says "TRUMP," an American flag scarf and button pinned to her denim vest featuring Trump's photo.
While their fervent support for Trump has led to a slew of negative feedback on Facebook, Yelp and Google reviews, their customers and supporters are also going on the internet to back them up.
"The freedom-haters have tried multiple times to bring us down, but every time we come back stronger than ever," reads part of an August Facebook post. "It is through patriots like you that the best of America shines bright."
'They can vote with their feet'
Chef Charleen Badman of FnB takes a less flashy approach.
In September, she and chef Danielle Leoni of The Breadfruit & Rum Bar participated in a #FeedTheVote Zoom fundraiser with other chefs to raise money for the Biden-Harris campaign. Also that month, FnB sold blue cocktail ice pops with Biden-Harris stickers, a collaboration with Vargo Handmade Cocktails.
On her Instagram page, Badman wrote that she and FnB co-owner Pavle Milic don't usually post about politics on social media because they don't want to make any guest feel unwelcome. But hospitality means everyone is welcome, and Badman believes "our country is farthest from hospitality it could be," she wrote.
For years, few commented on chef Chrysa Robertson's rustic red cabinet of joke trinkets at the back of her restaurant, Rancho Pinot in Scottsdale. But since 2016, customers have come by to gift her Trump memorabilia to add to the collection: a toilet paper roll with Trump's face printed on the sheets, a Troll doll with Trump's face and comb-over, a Trump bobble-head taking a dump.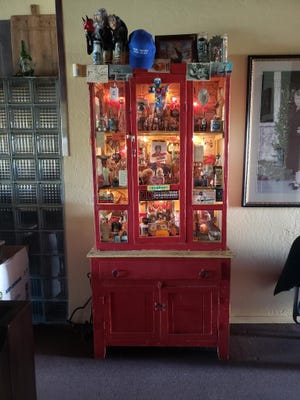 Then about a year ago, customers started noticing what was in the cabinet and took offense, she said.
She's had customers walk up to her and say they enjoyed their meal and the service, but they would never return again because of the "disgraceful display back there," she said. Once, an angry customer tried to remove her Trump toilet roll, so she put a lock on the cabinet.
For the most part, however, the cabinet started as a joke and her customers enjoy it, she said.
"Maybe I had the luxury of being an owner boss," Robertson said. "It's just me. I don't have to worry about investors, asking permission or offending anyone like that. I felt so strongly about what was going on in Washington, I felt like it was my humorous yet pretty serious way of showing that displeasure."
But even a restaurant owner's decision to enforce or not enforce wearing masks has become politicized. Earlier this summer, when Robertson posted a "No mask? No enter" sign at her restaurant, a vandal scrawled "Trump 2020" on it on multiple occasions and stuck a Trump-Pence sticker on the door, leading a friend of hers to install a security camera at the restaurant.
Robertson said she understands why some restaurant owners are hesitant to express their views — it's scary for restaurateurs to think they could be publicly vilified for making a statement, or even in some cases criticized for remaining silent.
But for her, the restaurant feels like an extension of herself and people can take it or leave it.
"If people don't agree with me or they're insulted, well, they get to make the choice," she said. "Do they like my food? Do they like the experience? Or are they more offended by my views? They can vote with their feet. It does not affect my business one bit."
Why one owner says it's worth speaking up
A white banner hangs outside The Coronado proclaiming in block lettering that white silence equals violence. The Black Lives Matter sign shows more wear than when it was first put up months ago, but Spetrino said she's going to keep it up as long as it stays in decent condition.
"Our bodies are physically political in a lot of ways. Having someone like Trump coming to office, a lot of us felt under attack in some ways," Spetrino said, referring to her team of partners and employees, which includes people of color, women and LGBTQ people.
Spetrino said much of what she learned about organizing in the beginning started with her own employees, who have been active with different organizations in metro Phoenix.
Over the years, The Coronado, and later Dark Hall Coffee, gained a reputation for taking a stance on politics by hosting events including a Standing Rock fundraiser against the construction of the Dakota Access Pipeline and an event with organization Bazta Arpaio to boot former Maricopa County Sheriff Joe Arpaio.
Each month, The Coronado and Dark Hall Coffee host a "Coffee for a Cause" fundraiser in support of a local organization. October's event benefited Power to the Period Arizona, a youth-led organization that fights to make menstrual products more affordable.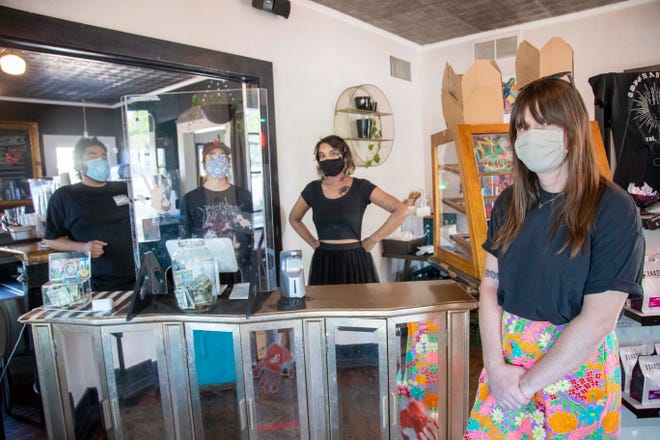 Spetrino said the public attention the businesses have received has led her to have serious discussions with her staff about safety.
Protesters from the Patriot movement have showed up to events and for a time, after a Blue Lives Matter website published an article about her, people began calling The Coronado to threaten staffers with violence. The restaurateur shared a screenshot with The Republic that showed what appeared to be a man on Facebook doxxing her mother's and sister's address.
"I really, in a very deep way, understand how our voice is a very bad business move," Spetrino said. "I totally get it. On the flip side, we have a stronger community around us than we ever have.
"If our goal was strictly to make money and not do anything good for our community, then we're doing it wrong. That's not where our heart is at. Our heart is to hopefully be a safe space in this community that helps create jobs and helps define the Phoenix I want to be in."