By Chelsea Prince, The Atlanta Journal-Constitution
(CNT) City News Talk #atlanta-ga
Rain bands and damaging winds from Tropical Storm Zeta swept through North Georgia on Thursday morning, leaving at least one person dead and nearly 1 million in the dark.
Zeta made U.S. landfall Wednesday afternoon as a Category 2 hurricane, lashing the Louisiana coast with 110 mph winds. It weakened to a tropical storm by the time it reached North Georgia.
The worst effects, including wind gusts up to 51 mph, tore through the region between 4 a.m. and 7 a.m. Thursday. A tropical storm warning for metro Atlanta has been extended until further notice, according to the National Weather Service.
Reports of storm damage are still rolling in. All across the metro area, fallen trees and downed wires have blocked interstates, disabled traffic signals and shut down surface streets.
UPDATE [10:30 a.m.]: Southwest Atlanta resident Jennifer Winfrey said she was sitting up in her den when the wind from Tropical Storm Zeta picked up about 4:30 a.m. She closed her eyes and prayed for protection for her family and neighbors on Beecher Road.
"The next thing I heard was, 'Crack. Crack. Boom,'" she said.
Her neighbor's mature tree uprooted and fell in her yard, missing her house but crushing her late father's Ford F-150. The truck held sentimental value for Winfrey. As a child, the sight of the old pickup coming up the road meant everything was going to be all right, she said.
It was swallowed by branches and leaves Thursday morning.
"A good man drove that truck," Winfrey said.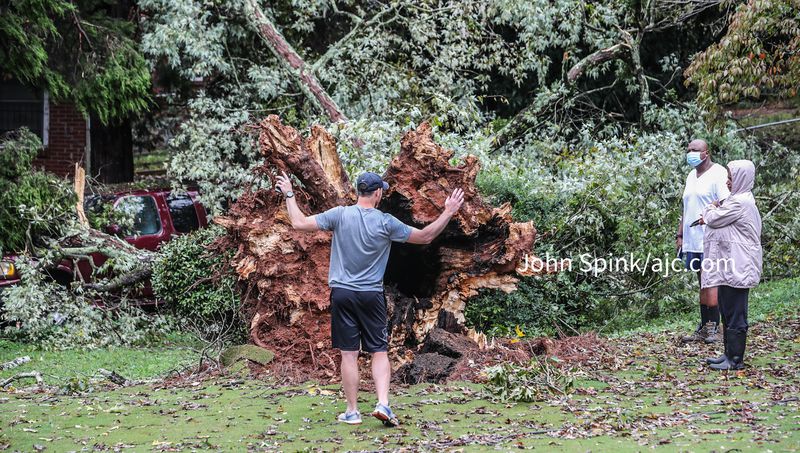 Winfrey said she is grateful that no one was hurt, and that her family does not have to look for a new place to live in the middle of a pandemic.
"The loss of human life and time, that's something you can't get back," she said. "But the car, we can replace that."
UPDATE [10 a.m.]: Authorities continue to report storm damage.
Union City fire crews were called to clear five downed trees or power lines within the city, but all roadways were passable as of 7 a.m., authorities said.
In Gwinnett County, officials said calls about wind-related incidents began pouring in just before 5 a.m. One person was taken to a hospital to be checked for injuries after a tree fell on a house on Smoke Hill Lane in the Hoschton area, according to Gwinnett fire.
Countywide, crews are still working to clear downed wires at 12 locations and 10 trees that fell on buildings. Reports of damage keep coming in, fire spokesman Capt. Tommy Rutledge said.
According to Channel 2 Action News, wind gusts peaked at 51 mph in Atlanta. The highest wind gusts were recorded in Rome at 55 mph, the news station reported.
UPDATE [9:30 a.m.]: All southbound lanes of I-985 have reopened after a fallen tree blocked the interstate Thursday morning.
Crews have completed cleanup at the Buford Drive exit, and traffic is flowing again, the WSB 24-hour Traffic Center reported. Traffic remains heavy on Buford Drive below the Mall of Georgia, traffic reporter Mark Arum said at 9 a.m.
Several other metro Atlanta roadways are still blocked with fallen trees. In DeKalb County, authorities said they were responding to more than 50 downed trees and several damaged traffic signals.
"Cleanup continues metrowide," Arum said. "If you do have to venture out, folks, please watch your speed."
In Cherokee County, authorities are still on the scene after a tree fell on a vehicle on Ga. 372 outside of Ball Ground. Deputies said it could be some time before the road reopens.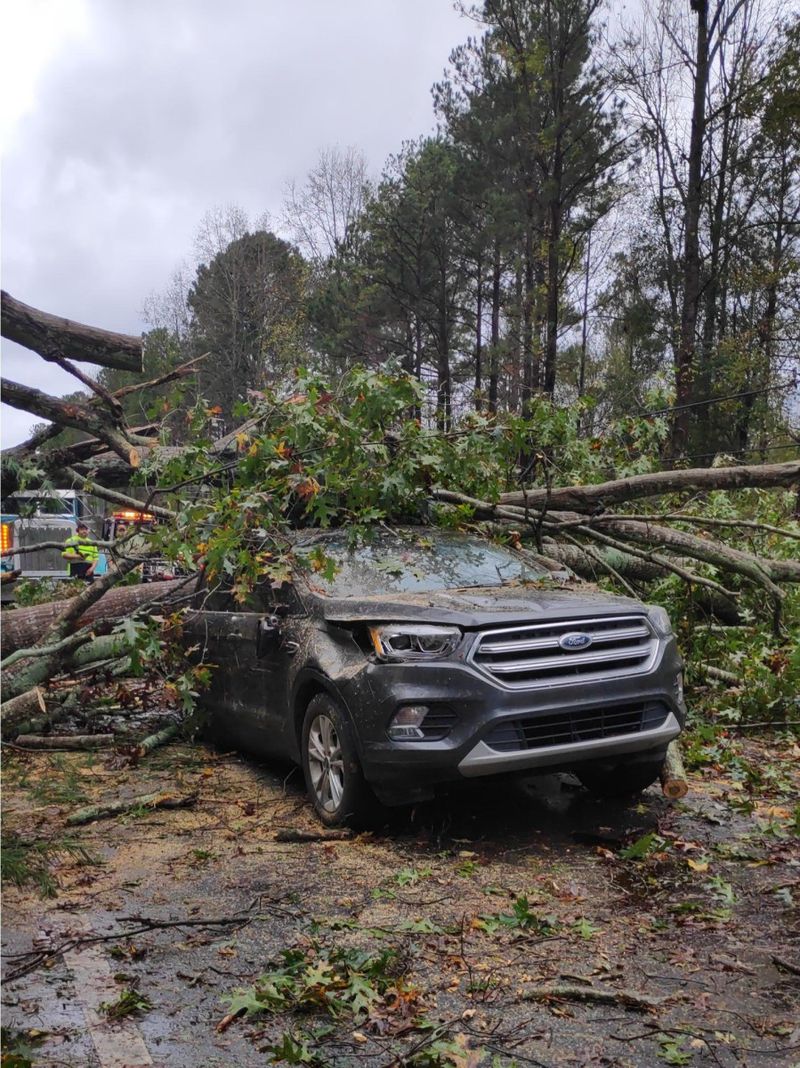 Another fallen tree took out a traffic signal and was blocking West Wesley and Habersham roads in northwest Atlanta.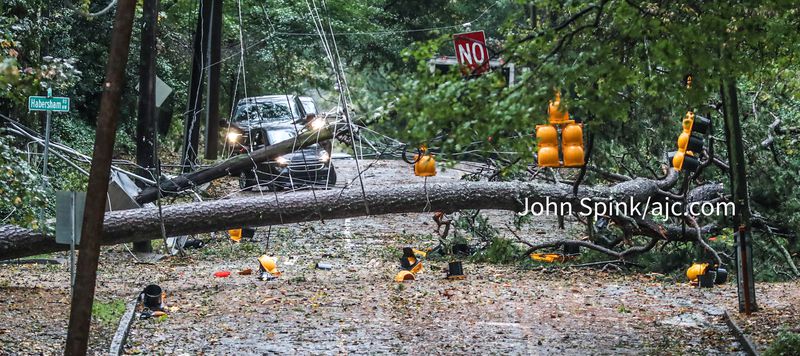 Zeta has also impacted operations at polling places, schools and COVID-19 testing sites in metro Atlanta.
Fulton County's virus testing sites will delay opening until noon because of the severe weather, according to health officials.
Only mist and drizzle remain from Zeta's early morning deluge. Winds continue to subside across North Georgia, with the calmest conditions in the western Atlanta suburbs.
"These calmer winds out toward Carrollton and LaGrange are moving into metro Atlanta over the next hour or so," Channel 2 Action News meteorologist Brian Monahan said.
UPDATE [8:30 a.m.]: Georgia Power was reporting outages for more than 613,000 customers statewide at 8 a.m. Another 364,000 Georgia EMC customers were without power, the majority of those in metro Atlanta.
It appears the worst has passed locally, Channel 2 Action News chief meteorologist Glenn Burns said. Winds are now gusting at about 30 mph, down from the 50 mph recorded earlier this morning.
The northeast Georgia mountains are not yet in the clear. Winds up to 50 mph are possible there for the next hour, according to Channel 2.
"We have a few sprinkles left in North Georgia, but not much left in the way of heavy rainfall," Burns said.