By Chelsea Prince – The Atlanta Journal-Constitution
Alexis Stevens – The Atlanta Journal-Constitution
(DNT) City News Talk #atlanta-ga
Rain bands and damaging winds from Tropical Storm Zeta swept through North Georgia on Thursday morning, leaving at least one person dead and nearly 1 million in the dark.
Zeta made landfall in the U.S. on Wednesday afternoon as a Category 2 hurricane, lashing the Louisiana coast with 110 mph winds. It had weakened to a tropical storm by the time it reached North Georgia early Thursday morning.
The worst effects, including wind gusts up to 50 mph, rolled through the region between 4 a.m. and 7:30 a.m. A tropical storm warning for metro Atlanta has been extended until further notice, according to the National Weather Service.
Reports of storm damage are still rolling in. All across the metro area, fallen trees and downed wires have blocked interstates and shut down surface streets.
UPDATE [8:30 a.m.]: Georgia Power was reporting outages for more than 613,000 customers statewide at 8 a.m. Another 364,000 Georgia EMC customers were without power, the majority of those in metro Atlanta.
It appears the worst has passed locally, Channel 2 Action News chief meteorologist Glenn Burns said. Winds are now gusting at about 30 mph, down from the 50 mph recorded earlier this morning.
The northeast Georgia mountains are not yet in the clear. Winds up to 50 mph are possible there for the next hour, according to Channel 2.
"We have a few sprinkles left in North Georgia, but not much left in the way of heavy rainfall," Burns said.
Most fallen trees have been cleared from the interstates, but one is still causing "a major mess out of Flowery Branch," WSB traffic reporter Mark Arum said
"It's been shocking the number of trees on interstates this morning," he said.
The southbound lanes of I-985 remain blocked near Buford Drive, causing huge delays getting to the I-85 merge. Drivers can take I-85, Buford Drive or Peachtree Industrial Boulevard to avoid the backups, according to the Traffic Center.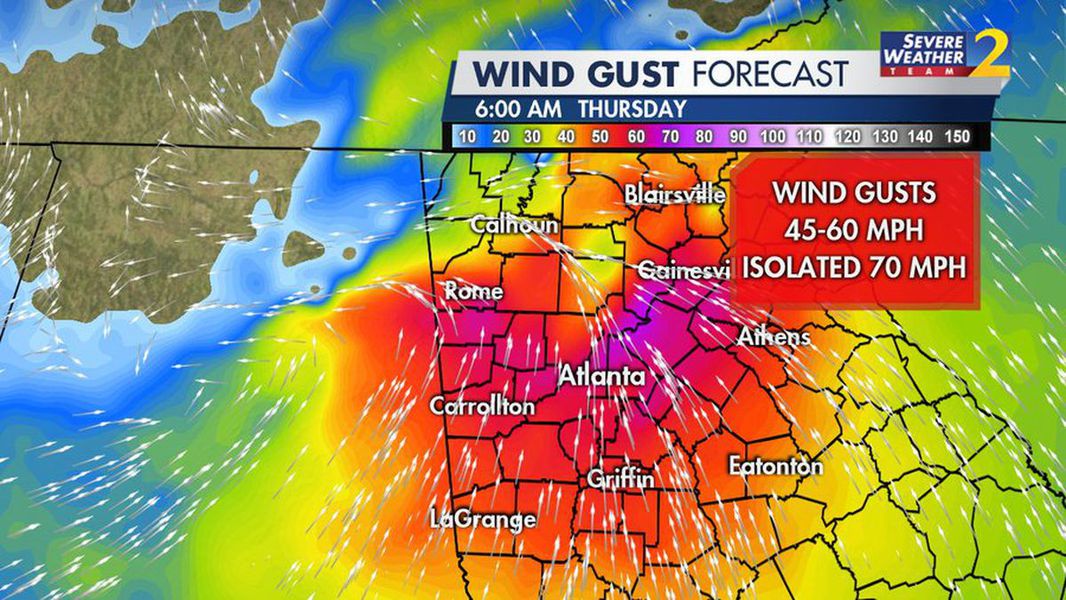 According to an Atlanta fire official, at least four families have been rescued after trees fell on their homes or vehicles. In northwest Atlanta, a large tree trapped a man in his third-floor bedroom when it came crashing down on a home on Brookview Drive.
"He was pinned between the tree, the bed and the floor," fire spokesman Sgt. Cortez Stafford told AJC.com. "That's how much intrusion came down from the large tree that came down in the backyard."
The tree fell on the man's shoulder, he said. He was finally freed after about 40 minutes of effort to cut away the branches and shore up the weight of the tree from the outside.
"Just because the wind has subsided somewhat does not mean that trees won't continue to fall throughout the morning as we continue with the storm passing through," Stafford said.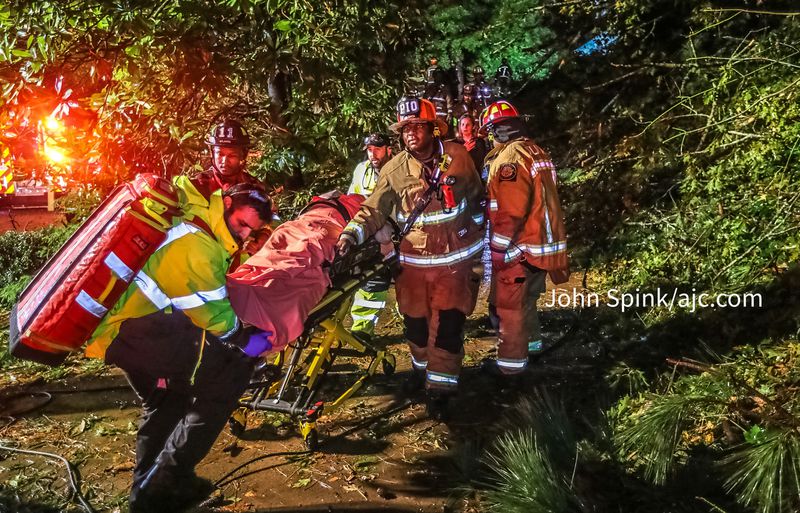 UPDATE [7:30 a.m.]: Winds from Tropical Storm Zeta may be dying down, but major delays remain on metro Atlanta interstates as crews work to remove toppled trees and wrecked vehicles.
Channel 2 Action News chief meteorologist Glenn Burns said the strongest winds are now moving northeast, and conditions are calming quickly in the western Atlanta suburbs. Zeta is currently situated over northeastern Alabama and will continue moving into Tennessee through the morning, he said, leaving Georgia to deal with its damaging effects.
In northern Gwinnett County, a fallen tree has shut down I-985 South between Buford Drive and I-85, according to the WSB 24-hour Traffic Center.
Crews are beginning to make progress with another downed tree on I-20 East before Fulton Industrial Boulevard, the Traffic Center reported. Two left lanes are open, but tough delays remain.
The Traffic Center suggests drivers take U.S. 78 until traffic recovers.
Trees and downed power lines are blocking surface streets all across Forsyth County, authorities said. At least 11 local roads were closed as of 6:45 a.m.
Burns said that once the winds and rain from Zeta subside, metro Atlanta is looking at some chilly air. The region will swap a tropical storm for a cold front, he said.
"Right now, we may be at 74 degrees but temperatures this afternoon will begin to drop rapidly once this cold front moves on in," he said.
UPDATE [7 a.m.]: Despite an early morning deluge of heavy rain from Tropical Storm Zeta, very little flooding has been reported across North Georgia, according to Channel 2 Action News.
In metro Atlanta, the National Weather Service has issued only one flood warning for the area of Big Creek near Alpharetta. The flood stage was nearly 5 feet Thursday morning and was expected to crest at a level of 8 feet by Friday afternoon, the Weather Service said in an advisory.
All of metro Atlanta remains under a tropical storm warning through 7:30 a.m.
Even though rain is tapering off in metro Atlanta, Channel 2 chief meteorologist Glenn Burns said the wind field is still very robust. Strong winds up to 50 mph are expected to continue over the next couple of hours, he said.
Strong winds have brought down trees and power lines all across the state. Georgia Power is now reporting more than 570,000 customers are without power, and another 366,00 Georgia EMC customers are starting the day in the dark.
The winds have proven deadly. One person was killed when a tree fell on a mobile home in Cherokee County, authorities said. The death is believed to be the first in metro Atlanta caused by Zeta.
Burns said the highest elevations of the northeast Georgia mountains are getting hammered with gusts up to 60 mph.
"Once the center of Zeta moves to the northeast of the North Georgia mountains, the wind field will change," he said. "The winds will become more northwesterly, and that's going to cut down some reallly chilly air from the central part of the country."
Temperatures are going to drop through the afternoon and evening, he said, eventually settling in the mid-60s for a high Thursday afternoon.
ORIGINAL STORY: Hundreds of thousands are without power Thursday morning as the remnants of Zeta rip through Georgia.
The storm is moving quickly at a speed of 55 mph, with the heaviest rain bands now battering the northeast Georgia mountains, according to Channel 2 Action News. Damaging wind gusts are still possible in metro Atlanta before sunrise.
Most of metro Atlanta remains under a tropical storm warning until 7:30 a.m.
"The good news is ― I know anxiety levels are stretched to the limits right now ― no tornado warnings," Channel 2 chief meteorologist Glenn Burns said. The tornado risk is extremely low, he said.
Wind gusts up to 51 mph were reported in the city, with gusts up to 100 mph well above the ground, according to Channel 2. The gusts have brought down trees, blocking roadways and toppling power lines all across the metro area.
"There's a lot of wind still left in Alabama," Buns said. "The rain may be tapering off here, but the stronger winds are likely now to be still moving in."
As of 6:30 a.m., Georgia Power was reporting more than 530,000 outages statewide with another 330,000 from Georgia EMC. Those numbers were climbing rapidly as the storm moved across the state.
Channel 2 meteorologist Brian Monahan said the rain should move out as North Georgia nears daybreak, and the wind should ease off. Once Zeta clears the state, conditions should improve quickly.
"By the time we get to the afternoon, we've got some sunshine for you," he said. "It will get better toward sunrise."
The storm has made a mess of things on the roads.
"Wires down, traffic lights out all over metro Atlanta," WSB traffic reporter Mark Arum said. "Please folks, if you don't have to be out, don't go out."
Multiple crashes have been reported, and several roads are impassable due to fallen trees, debris and power lines. Trees are down all across Cobb County, and officials are suggesting residents stay home until the worst of the storm passes.
A similar warning was issued by authorities in Brookhaven.
In Alpharetta, trees are blocking Clubhouse Drive at Windward Parkway and Webb Bridge Road near Webb Bridge Middle School.
"I figured we'd have trees down on the side streets," Arum said. "I couldn't imagine the number of trees down on the interstates, especially the Westside. Really getting hit hard right now."
A fallen tree is blocking I-20 East before Lee Road, and on the other side of the city, another tree is blocking I-20 West just before Martin Luther King Jr. Drive, according to the WSB 24-hour Traffic Center.