By Tanni Deb, The Atlanta Journal-Constitution
(CNT) City News Talk #atlanta-ga
A cold front that has made its way into North Georgia with gusty winds is bringing along chilly weather this weekend, especially in the mornings, according to Channel 2 Action News chief meteorologist Glenn Burns.
The National Weather Service issued a frost advisory Friday that remains in effect through early Saturday morning.
"Temperatures will be at or below freezing and there's going to be some patchy frost," Burns said.
North Georgia will experience a very cold Saturday morning, with temperatures plummeting to 36 degrees in some spots, according to the news station. In Atlanta, it'll be 43 degrees for the morning low.
"On Sunday, we have another cold front. This is a big one, folks," Burns said. "It's going to generate a few showers."
There's about a 20 percent chance of a shower by 6 a.m. Sunday. Most of those will be from Atlanta to the eastern part of Georgia, Channel 2 reported.
"Then the cold front flies in during the afternoon, scours out the clouds right about 1 o'clock in the afternoon and then the big drop in the temperature of very cold air for much of the country coming in for Sunday night and Monday morning," Burns said.
The predicted highs are 62 for Saturday and 67 for Sunday.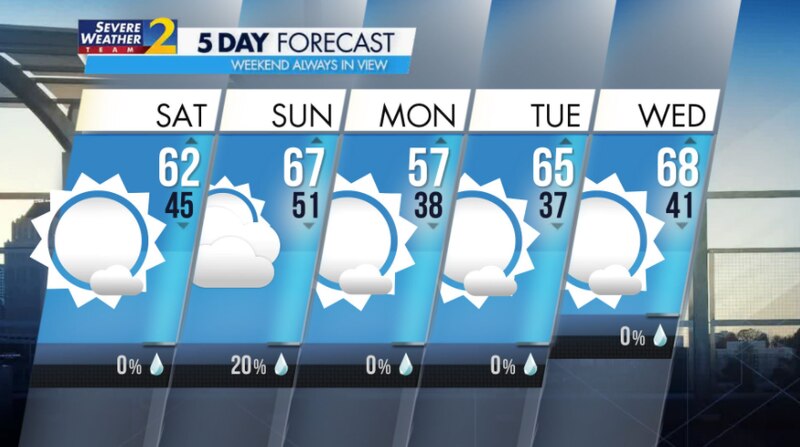 Drivers should be aware of some of the projects the Georgia Department of Transportation has planned this weekend.
Construction southbound on the shoulder of the Downtown Connector near University Avenue will moderately impact traffic starting at 9 a.m. Saturday, GDOT said. The roadwork will continue until 7 a.m. Sunday.
Construction on I-85 South is happening in Hapeville near Sylvan Road and Central Avenue starting at 8 a.m. Saturday, GDOT said. All lanes will be closed until 5 p.m.
Maintenance activity on the I-75 ramp southbound near I-285 West will impact traffic between 9 a.m. Saturday and 7 a.m. Sunday, according to GDOT.