By Asia Simone Burns, The Atlanta Journal-Constitution
(CNT) City News Talk #atlanta-ga
You'll want to bundle up Monday morning.
With temperatures in the low 30s, it feels like winter is already knocking on the door, Channel 2 Action News meteorologist Brian Monahan said. Metro Atlanta has not had a day this cold in 238 days.
"Last time we had temperatures in the 30s in metro Atlanta, that was back on March 8," Monahan said.
"That was before the pandemic. Kids were still in school. We were still going to work like normal. Life was kind of normal at that point. That was the last time it was this cold."
Right now, it's about 40 degrees in Atlanta. Parts of the North Georgia mountains are still seeing temperatures as low as 31 degrees, and Gainesville and Athens are at 38 and 39 degrees.
A freeze warning issued by the National Weather Service on Sunday remains in effect until 9 a.m. The warning — the first of the season — includes parts of Bartow, Cherokee, Dawson, Fannin, Floyd, Gilmer, Haralson, Lumpkin, Murray, Pickens, Dawson, Towns and White counties.
The Weather Service also issued a wind advisory until 7 a.m., predicting wind gusts as fast as 35 mph.
"When you factor in that wind, it feels like freezing temperatures," Monahan said.
That might pose issues for neighbors in North Georgia who are still waiting for their power to be restored after Tropical Storm Zeta. Nearly 1 million customers lost power Thursday morning as Zeta tore a destructive path through the state, killing at least three people in North Georgia.
About 7,000 Georgia Power customers were still in the dark at 10 p.m. Sunday, and more than 9,400 Georgia EMC customers were waiting for their power to be restored Monday morning.
"The power recovery effort has been long and difficult in the aftermath of Zeta which produced wind gusts in excess of 70 mph," Georgia EMC spokeswoman Terri Statham said. "Crews are following a proven, methodical process for restoring power, but progress is moving slowly while rebuilding miles of power lines and replacing hundreds of power poles."
The good news is that temperatures will increase into the 50s by noon, according to Monahan. The high for the day is 56 degrees.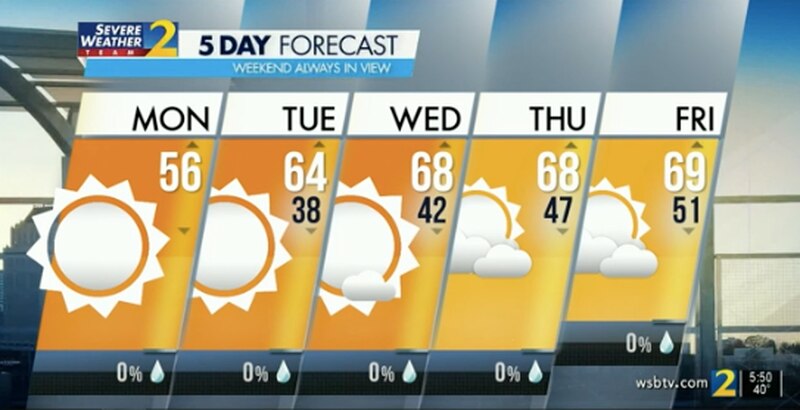 Cranking up the heater in your car might be necessary. However, that should be the only thing you have to worry about during the morning commute, the WSB 24-hour Traffic Center reported.
Some metro Atlanta drivers will have to navigate around roads that are closed due to storm damage.