Casey Brewer (from left), Joe Frizell and Javier Alonzo with Contract Builders board up Corner Bakery at 260 Peachtree in downtown to protect the store from possible civil unrest on Tuesday, Nov. 3, 2020.
By Chelsea Prince, The Atlanta Journal-Constitution
(CNT) City News Talk #atlanta-ga
Georgia National Guard says no specific elections duty
With hours to go before election results start rolling in, businesses across metro Atlanta were boarding their windows Tuesday morning in anticipation of a night of civil unrest.
Plywood sheets covered the entrances to the row of shops at Buckhead Station near Ga. 400, reminiscent of measures taken this summer in the midst of racial justice demonstrations and a citywide curfew. Boards were also going up at a nearby mobile phone store, an outdoor outfitter and at several entrances to Lenox Square.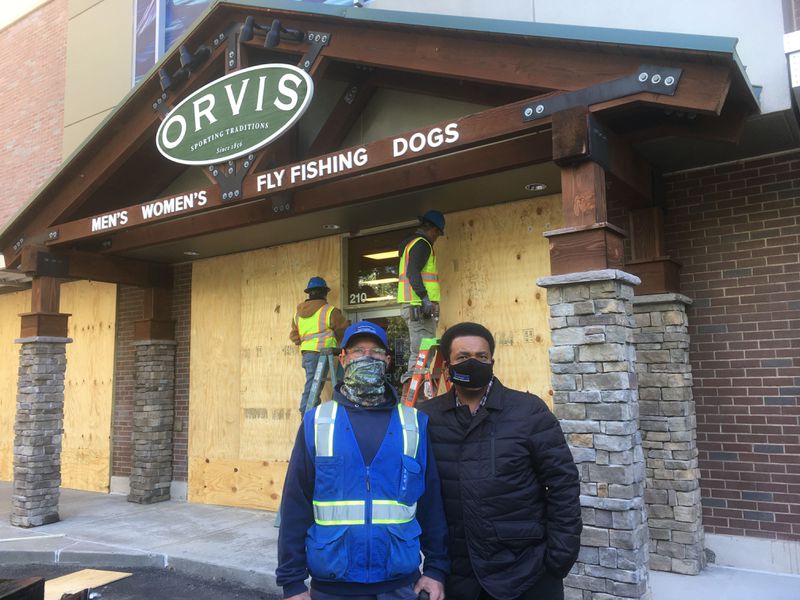 Diana Hines of Dunwoody came by the Nordstrom Rack at Perimeter Mall for some "retail therapy" Tuesday morning.
"I thought maybe they went out of business," she said, referring to all of the boarded up windows. "No, they're open."
The store is one of many wrapped in plywood on Election Day.
"I'm a Christian. It's like the apocalypse is on the way," Hines said. "It's just unreal."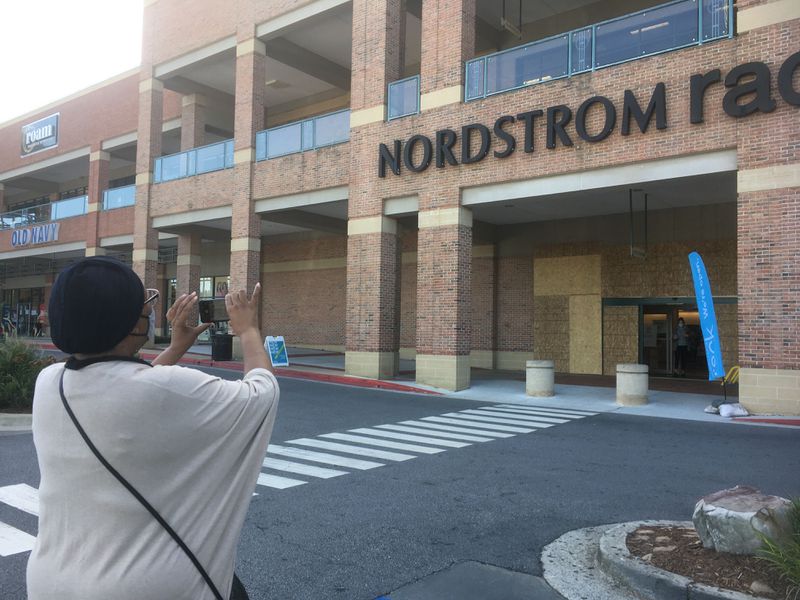 Similar measures were being taken in downtown Atlanta, which saw the majority of destruction during the summer protests.
Casey Brewer, a contractor with Contract Builders, said his crew got the call last night to board up businesses along two blocks of Peachtree Street.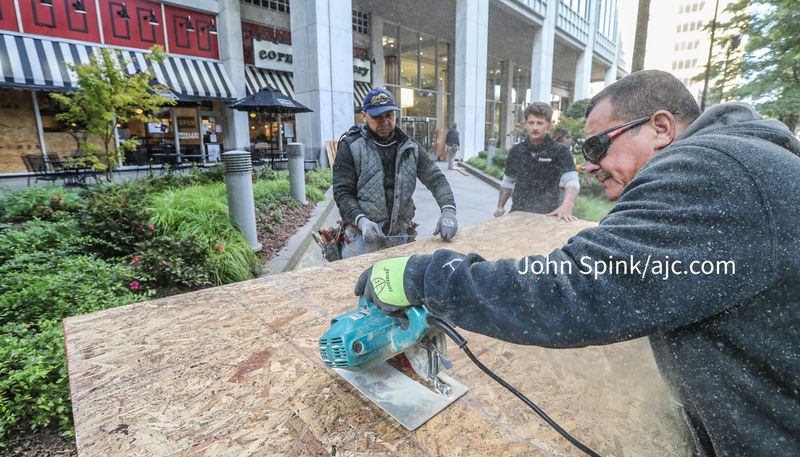 "We're preparing for the aftermath of the election that everybody is supposing is going to happen," Brewer said. "We hope it doesn't."
Faced with the possibility of a new round of protests, authorities were also preparing for the worst. The Department of Public Safety said it has "prevention and response measures in place for concerns of extremist violence."
"Election time is always a heavy concern for the Department of Public Safety (DPS) and it is even more concerning during these most recent times of civil unrest around the state," spokeswoman Franka Young said. "A primary goal of DPS is the safety of those exercising their constitutional rights, whether it be during the election process or engaging in First Amendment right activities."
Young said she could not elaborate on specific plans for election night as it could compromise "strategic planning and the safety of troopers and officers involved.
According to the Georgia National Guard, there are no plans to deploy additional troops to Atlanta. The guard has been augmenting efforts of state authorities since May under Gov. Brian Kemp's emergency declaration, a spokesman for the force said.
This story is developing. Please return to AJC.com for updates.
— Staff writers Jeremy Redmon and Jennifer Brett contributed to this article.