By Asia Simone Burns, The Atlanta Journal-Constitution
(CNT) City News Talk #atlanta-ga
With just over 12 hours to go until Election Day 2020 kicks off, voters across Georgia have a lot to think about — including what the weather will be like when they head to the polls Tuesday.
The hotly contested presidential race and both of Georgia's U.S. Senate seats are on the ballot, making for a busy election cycle. As of Friday, nearly 3.9 million Georgians had already cast a ballot, according to data from the secretary of state's office.
However, thousands more Georgians will vote in person Tuesday.
Whether you've already made a choice on who to vote for before pulling up to the polls, there's one area where you don't want to be undecided: what to wear.
Folks planning to participate should prepare for a cold and dry election day, according to Channel 2 Action News meteorologists. It'll be a chilly 37 degrees when the polls open at 7 a.m., Channel 2 meteorologist Brian Monahan said.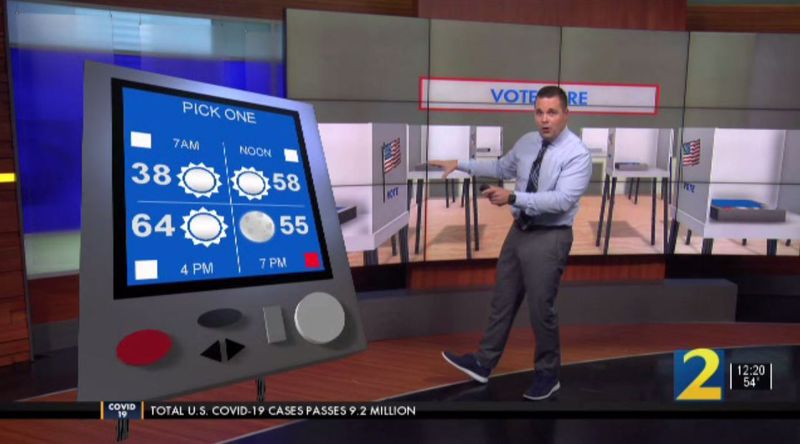 "If you're going to stand in line early (Tuesday) morning and cast your vote a little early — those lines may be a little long. You may be waiting outside the door," Monahan said. "Make sure you're dressed right, with a heavier coat."
You'll need the heavy coat until about 10 a.m., he said. By then, the sun would have warmed things up to the mid-50s. Around noon, temperatures are expected to reach 58 degrees, according to the forecast.
"Just make sure you have the sunglasses if you'll be in line," Monahan said.
Courtesy of the sun, temperatures are expected to reach the day's high of 64 degrees by 4 p.m. However, you'll want to make sure you keep your sweatshirt handy, as temps are expected to tumble once the sun goes down, according to chief meteorologist Glenn Burns.
"It's going to really drop quickly," he told AJC.com. "Sunset is at 5:42 p.m., then kaboom!"
When the polls close at 7 p.m., it'll be about 55 degrees.