By Mark Niesse, The Atlanta Journal-Constitution
(CNT) City News Talk #atlanta-ga
Key developments
Problems with voting technology forced voters to use emergency paper ballots at Morris Brandon Elementary in Buckhead, in Morgan County east of Atlanta, and in Spalding County south of Atlanta.
Some voters in Gwinnett County who had requested absentee ballots were incorrectly turned away.
Most voters reported fast-moving lines.
Voters lined up outside polling places Tuesday morning to be among the first to cast their votes on a crucial Election Day.
It's expected to be the biggest day of voting in Georgia, with turnout reaching as high as 2 million. Another 3.9 million people already cast early or absentee ballots.
10:50 a.m.
Mostly smooth start in Fulton County
By Ben Brasch
None of Fulton County's 255 polling places opened late this morning, and lines have been mostly short all day, officials said during a 10 a.m. press conference.
That's a far cry from June 9, when at least nine precincts opened late and some voters waited all day in lines.
There were some technical issues this morning, including at Morris Brandon Elementary School in Buckhead, where voters cast paper ballots until machines started working around 9 a.m.
Fulton elections head Richard Barron said the problem involved Poll Pads, which are used to check in voters and encode voter access cards, but he didn't know the cause. He said they reset the devices completely to resolve the issue.
Another problem occurred when a moving company the county had hired to deliver elections equipment to precincts backed out at the last minute.
"They basically said they didn't have any staff to help us move," Barron said.
The county had to hire the movers after a COVID-19 outbreak of elections warehouse staff, some of whom would have delivered the equipment. In all, 25 of the 60 warehouse workers tested positive, and two are still in the ICU.
That made for a chaotic scene last night as crews worked to get all the equipment out.
"It cut a little too close to the polls opening for my taste, but we were able to get all of that equipment out into the field," Barron said.
He said the company dropping out affected more than 30 polling places.
One of them was The Cathedral of St. Philip in Buckhead, where the first person in line at 5:30 a.m. was Fulton Commission Chairman Robb Pitts. The equipment arrived at 7:04 a.m., leaving the chairman and others to vote with a provisional ballot.
"It was seamless, no problem," said Pitts, who added that a couple people waited 15 minutes until the equipment was set up.
Barron did not know how many precincts had to distribute provisional ballots because of issues, but those kind of ballots take three times longer to count.
He said he expects results from most of the absentee-by-mail and in-person early votes to be posted online by 10 p.m. Tuesday.
Because of the massive push toward earlier voting, mailed and early ballots will likely account for 70% to 75% of Fulton's votes. He said he expects between 150,000 and 170,000 people will vote in person today.
10:18 a.m.
Voter access cards not working in Morgan County
By Brad Schrade
Morgan County had to turn to emergency paper ballots at several of its seven polling locations this morning, said Jeanne Dufort, the local Democratic Party's chief poll watcher.
She said the problem was linked to the ballot access cards, which are used to activate voting touchscreens.
The issue hasn't caused significant delays, but did add extra work for poll managers who "did a wonderful job" responding to the problem, Dufort said.
Some chose to use their supervisor's access cards to activate vote machines and keep people voting and moving through the lines, while several locations turned to the emergency paper ballots.
"There was clearly some issue countywide with encoding those cards," said Dufort, who has poll watchers at each of the locations.
At least one precinct had access cards working, but others were still down.
Election officials in Morgan County didn't immediately return messages seeking more information.
10:10 a.m.
West Oakland precinct back online
By Henri Hollis
Technical issues briefly caused delays at Fulton voting precinct West Oakland Missionary Baptist Church, but poll workers said the problems were quickly solved by county technicians.
"They actually sent two techs," said assistant poll manager Lena Jefferson said. "Everyone waited in line patiently till the machines were back up."
The precinct is now functioning as normal and there is no line.
9:42 a.m.
Carter Center monitors US elections
By Christopher Quinn
The Carter Center knows about tough elections in difficult situations, having observed more than 100 in foreign countries, and it expressed confidence in Tuesday's U.S. election.
"We are confident that these elections will reflect the will of the voters when all votes are counted," said Carter Center CEO Paige Alexander. "Allegations of potential rigging and widespread voter fraud are baseless, and they create the real and dangerous risk of undermining confidence in our democratic processes, inflaming tensions, and inciting violence."
States have put in place significant changes and practices to ensure people can vote freely and securely, the Carter Center said in a statement Tuesday morning.
"Expanded voting options and high turnout mean it may take longer to know the results. But the counting and tabulation processes are well-tested and well-determined by law, and they must be conducted transparently in the presence of representatives from all candidates. Voters have every reason to feel confident in them," according to the Carter Center.
"Whichever side wins, we should all demonstrate pride in our great tradition of both challengers and incumbents respecting the will of the voters."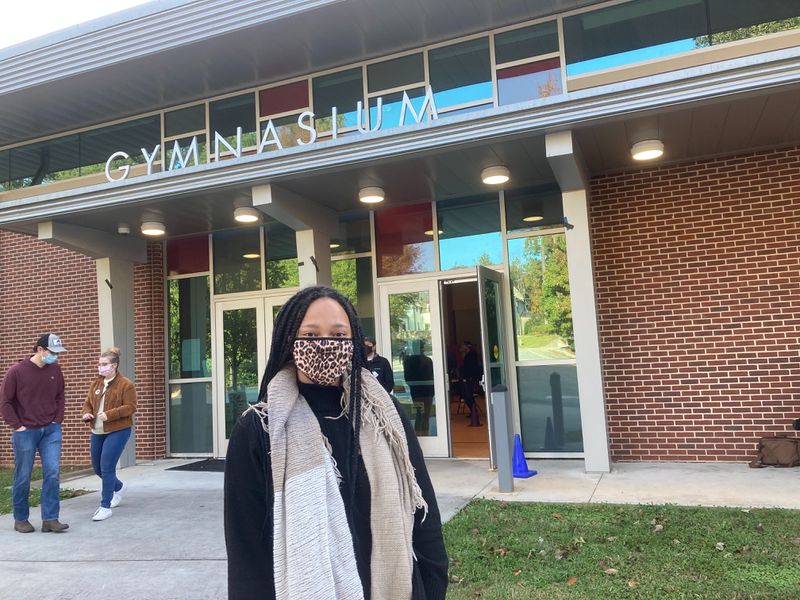 9:25 a.m.
Voting machines finally working in Buckhead
By J.D. Capelouto and Ben Brasch
Technicians were able to get voting equipment working at Morris Brandon Elementary in Buckhead, where voters were forced to use emergency paper ballots instead of the state's brand-new machines.
Voting computers came online about 9 a.m., two hours after polls opened.
Kayla Willis, 26, approached Morris Brandon around 8:30 a.m. and was told she would have to vote on an emergency ballot, or come back later in the day.
"I don't have an option than to do this," Willis said before heading inside.
When she came out 10 minutes later, she described the experience as frustrating but said the staff were friendly and the process was quick.
9:20 a.m.
Fulton voters fret about integrity of election
By Adrianne Murchison
A few ballots got stuck as they were pushed into ballot boxes at Vickery Mill Elementary School this morning, said poll manager Robert Singleton. The issue was quickly fixed and cause no real problems or delays, he said.
Beau Borst, a Fulton County voter, said he has general faith in the voting system but he feels a little uncertainty about fraud and the possibility of the system being hacked.
He said that concerns about the country being divided can be easily remedied.
"I think Americans know what they want and they're going to vote for it," said Borst, a project coordinator for a construction company. "I think it's divided, but it can be undivided very quickly with a little character brought to the White House."
Anthony Rosenberg said he has faith that votes will be counted accurately and is confident in the direction of the country.
"I think as Americans we're going to do the right thing, Rosenberg said. "There are extremists on both sides. I think the founders want to people to be vocal and speak their minds, but without hurting others."
Phillip Carroll said voting on Election Day is a special experience, but he has a few fears about the accuracy of the results. Some people have bad intentions, he said. He said he's pleased with the direction of the country and wants it to continue on its current course.
9 a.m.
Some voters turned away in Gwinnett
By Zachary Hansen
Poll managers in at two locations incorrectly told voters who requested absentee ballots that they needed them in order to vote, said Gwinnett spokesman Joe Sorenson.
"Those poll managers have been corrected and reminded of their training," Sorenson said. "While it does speed up the process, you do not need your absentee ballot to vote today."
Voters who request an absentee ballot but later decide they want to vote in person are allowed to do so in Georgia.
The process goes faster if voters bring their absentee ballots with them to the polls, but that's not required.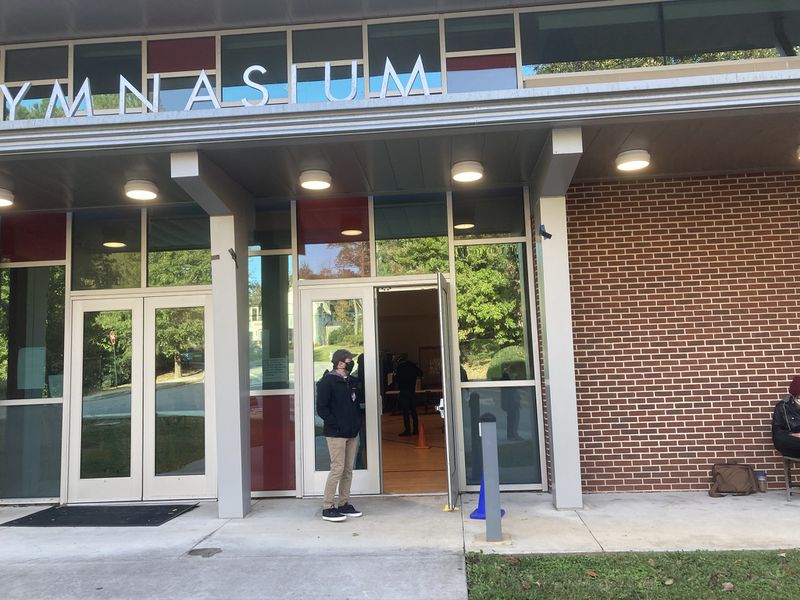 8:30 a.m.
Emergency ballots deployed in Buckhead
By J.D. Capelouto and Ben Brasch
Voting equipment wasn't working at Morris Brandon Elementary in Buckhead, forcing voters to use emergency paper ballots instead.
Ryan Barrows, a poll worker at the precinct, said the scanners are locked and election workers can't get into the machines.
"We are working with the poll manager now to resolve the technical issue they are experiencing at that location," said Fulton County spokeswoman Jessica Corbitt.
There was no technician on site to immediately address the problem, but election officials said they were in contact with the county.
8:13 a.m.
Voting machines down in Spalding County
Channel 2 Action News reports that all voting machines are down because of a glitch in Spalding County, 37 miles south of Atlanta.
Spalding County election officials are sending 2,000 provisional ballots to each precinct so everyone can post a paper ballot. The county doesn't plan to stay open late unless a court orders it, but every person will get an opportunity to vote, the county election official told Channel 2.
8:04 a.m.
Absentee ballots due before polls close today
By Mark Niesse
Voters who requested absentee ballots can still return them today and avoid lines at polling places.
But voters shouldn't put their absentee ballots in the mail because they wouldn't arrive in time.
Ballot drop boxes are available in about 130 of Georgia's 159 counties, and voters are also allowed to drop them off at their county's main election offices.
Absentee ballots must be received by 7 p.m. to be counted, according to a recent court ruling.
Over 1.25 million absentee ballots have already been returned, according to state election data Tuesday. That leaves over 200,000 absentee ballots that voters requested but haven't sent back.
"Please make your choices on that ballot and return it to your local ballot drop box or your county register's office," said Secretary of State Brad Raffensperger on Monday. "Your vote counts."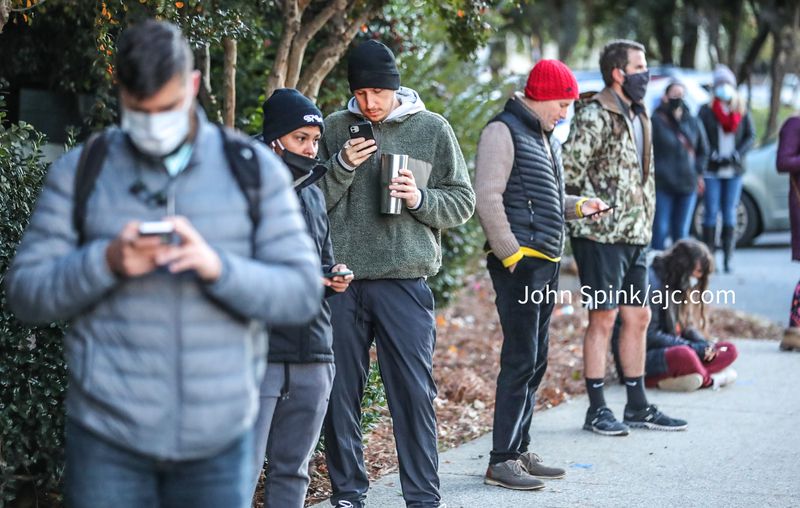 7:55 a.m.
No Midtown meltdown this time
By J.D. Capelouto
Park Tavern, next to Piedmont Park in Midtown, was the site of a major meltdown during the June primary.
Tuesday morning, voters there said it was a smooth process with no lines after polls opened.
"It was super easy, I was surprised," said Lee Pressley, who walked to the precinct to vote. She said she voted on Election Day because "I'm a procrastinator and I have a busy work schedule."
Michael Johnson, 31, brought a cup of coffee and was prepared for a long wait, but didn't encounter one.
"I did the absentee thing, the mail-in thing, but it never showed up. So I just came here," he said.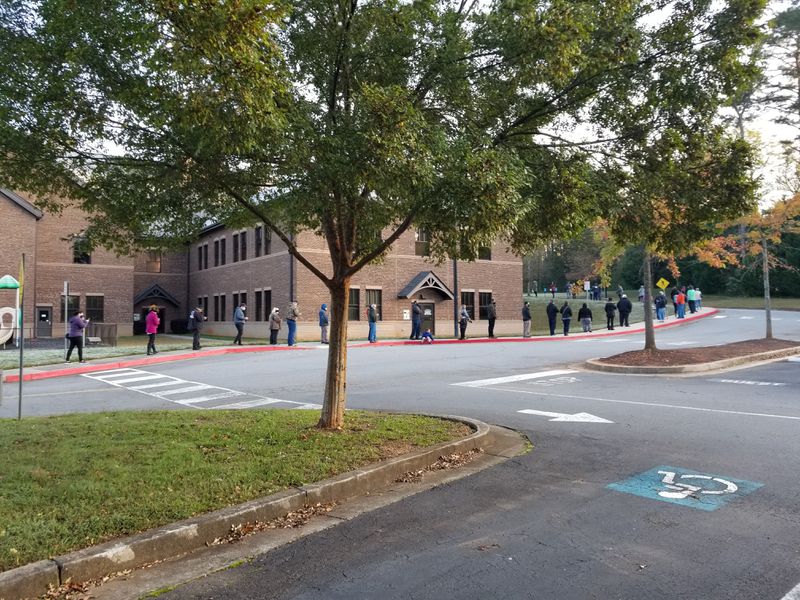 7:40 a.m.
'It's going to be huge'
By Stephen Deere
At the Noonday Baptist Church in north Cobb County, Barry Blanton, 58, walked away from the polling center at about 7:15 a.m. after casting his vote.
He said the process took little time at all. But that was because he arrived shortly after 6 a.m. and was the fourth person in line. Twenty minutes later, dozens of people had lined behind him, Blanton said.
He said he choose not vote early for various reasons. He is traditionalist, he said.
"I don't trust the mail anyway," he said. "You want to make sure it gets counted, you show up."
By 7:30 a.m. the line at the church had swelled to about 75 people. Blanton predicted turnout would continue to grow.
"It's going to be huge," he said.
But 11 miles away at the North Cobb Senior Center in Acworth, there were roughly 10 people inside the polling site.
Christina Stephens said it took her less than 15 minutes to vote. She left surprised.
"I was expecting to stand in long lines," she said.
7:30 a.m.
Kemp receives absentee ballot in time
By Greg Bluestein
Georgia Gov. Brian Kemp, who is in quarantine, told WSB Radio that he received his absentee ballot Monday and will be dropping it off Tuesday.
Kemp went into self-quarantine Friday after coming into close contact with U.S. Rep. Drew Ferguson, who tested positive for the coronavirus. Kemp tested negative and requested an absentee ballot.
It wasn't previously clear whether Kemp's absentee ballot would arrive in the mail in time for him to vote, but he said he has it in hand.
Kemp, an Athens resident, can return his absentee ballot at one of six drop boxes in Athens-Clarke County, or he could drop it off in-person to the county's elections office.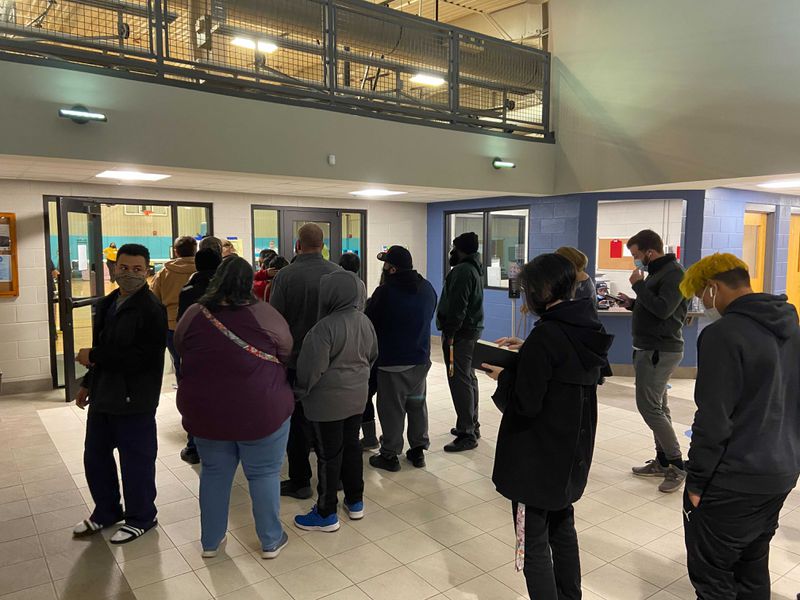 7:28 a.m.
Short line in Norcross
By Zachary Hansen
One of the first voters to cast their ballots at Best Friend Park in Norcross was Ellis Jefferson, who showed up roughly 15 minutes before polls opened.
"I always vote early, and this year wasn't going to be any different," he said, noting that he expected a longer wait.
Keene-Ann James said she showed up as polls opened because she wanted to make sure she get her chance to vote before heading to work. She tried to vote Friday, the last day of early voting, to avoid any issues but was dissuaded by long lines.
"The lines were ridiculous," she said. "I went to two different (early voting) locations, and the lines were hours long."
Ashley Davis, a business owner, said she didn't have the time to vote early but was going to make sure she cast her vote this election.
"It's mandatory to vote. It's my privilege to do so," she said while waiting in line outside Best Friend Park in Norcross about 7:30 a.m. "I don't like the way things are being run and the direction of our country, so I'm definitely voting."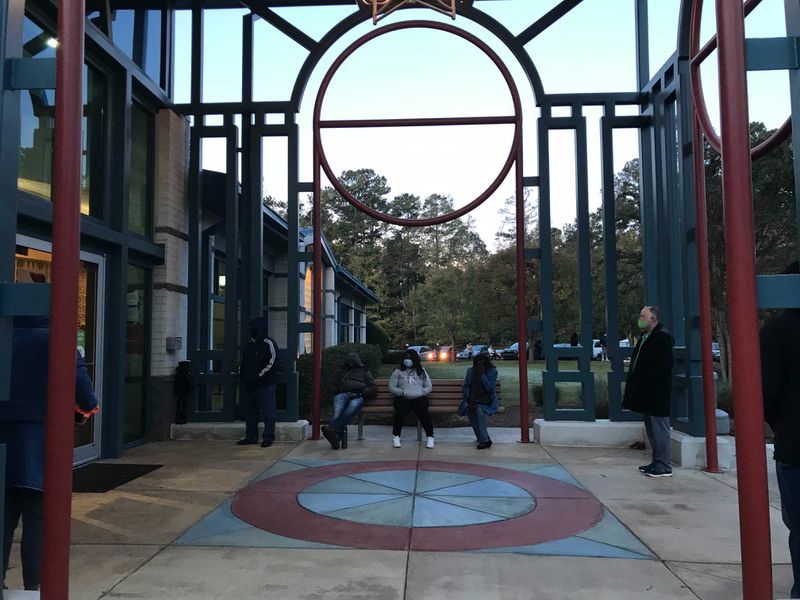 7:13 a.m.
Voters ready for waits with chairs and hot beverages
By Vanessa McCray
Esther Kowei-Sanami, 43, arrived at the Lucky Shoals community center at 5:30 AM so that she could vote before getting into work at 9 a.m.
She was the first voter to emerge from the center however after poll workers told her she was in the wrong location. She emerged holding the name of the correct precinct on a small sticky note and said she was going to try to find it.
"I live right here," she said. "I don't understand why I can't vote here."
7 a.m.
Polls open
By Mark Niesse
Polls opened Tuesday morning to a host of Georgia voters eager to pick the president, two U.S. senators members of Congress and the Georgia General Assembly.
Over 2,400 polling places were open across the state Tuesday. Already, 3.9 million people have cast early or absentee ballots.
High turnout could lead to lines, but election officials say they're prepared.
Nearly 2,000 field service technicians have been hired to help with potential voting equipment problems. Tens of thousands of poll workers have been hired. Ninety-one new polling places have opened in Fulton County, where the longest lines occurred during the primary.
Polls are open from 7 a.m. to 7 p.m., and then results will begin to be reported.
Voters can check their polling places on the state's My Voter Page at www.mvp.sos.ga.gov.