By Chelsea Prince, The Atlanta Journal-Constitution
(CNT) City News Talk #atlanta-ga
Metro Atlanta will experience multiple seasons over the the span of a few hours Wednesday.
After another wintry start, temperatures are again headed for the upper 60s in the afternoon, according to Channel 2 Action News meteorologist Brian Monahan. It is not quite as cold Wednesday as on Election Day, but morning lows in the 40s in Atlanta still feel quite brisk.
"The word for the day: Dress in layers," Monahan said.
It will be one of those days that the urban heat island effect will keep the city feeling slightly warmer, he said. Freezing temperatures were recorded in the northeast Georgia mountains Wednesday morning.
"If you head outside of I-285, that's where it gets cold quick," Monahan said.
Lots of sunshine will help temperatures to rise this afternoon. Atlanta's projected high is 69 degrees. For many, Monahan said short sleeves and sunglasses will be all that's necessary to enjoy time outside.
"There is a slight chance of a shower, but that's not until the weekend," he said. "Things should stay pretty dry all the way into Saturday and Sunday for most of us."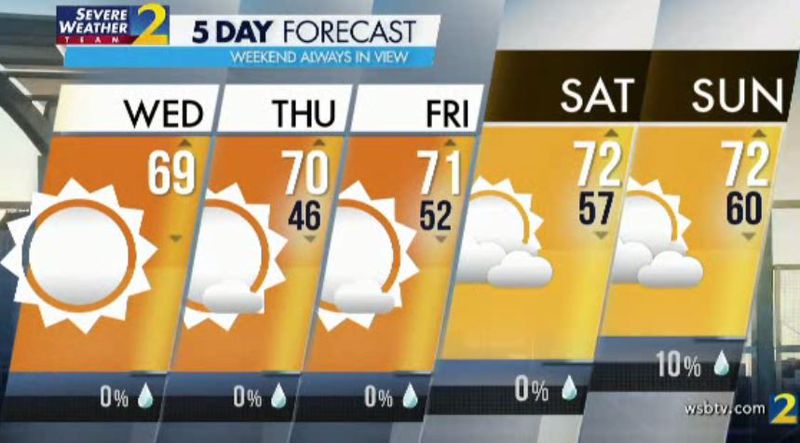 A slight 10% chance of rain Sunday will be due in part to activity in the tropics, according to Channel 2. Hurricane Eta is currently lashing Central America, but Monahan said it will weaken and make its way toward the U.S. next week.
Remnants of the storm are likely to be pulled toward North Georgia along a cold front by the middle of next week, he said, increasing rain chances locally.
The Wednesday morning rush could be backloaded as some commuters choose to sleep in after a late night of election results. WSB traffic reporter Mark Arum said he expects lighter conditions to start the commute and heavier conditions at the end.
"I know a lot of metro Atlanta stayed up late watching the coverage," Arum said. "If you do venture out early this morning, be extra careful about your neighboring motorists. They are probably sleep-deprived this morning."
The metro Atlanta interstates are moving well at 6 a.m., according to the WSB 24-hour Traffic Center. There are no major crashes or delays.