Yvonne Wingett Sanchez Ronald J. Hansen Jen Fifield Arizona Republic
(CNT) City News Talk #arizona
Arizona's political realignment is coming into sharper focus, and while Republicans still can win some key races, they can't like the bigger picture of what they see.
Unofficial results show Joe Biden becoming only the second Democrat to carry the state for only the second time since Dwight Eisenhower was president. The state will have two Democratic senators for the first time since the 1950s, too.
Democrats were leading across Maricopa County in statehouse races and municipal government.
And in an election where Democrats fell far short of expectations across the country, Arizona stands apart, at least for the moment, as a prominent exception. Democrats have made competitive races in Arizona where they didn't exist before.
President Donald Trump's campaign insists he could still come back to win the state, noting the remaining uncounted votes don't have to break his way as much as the late ballots did on Tuesday night for him to do so. He closed his vote deficit in the race, according to new counting released Wednesday night.
Sen. Martha McSally, R-Ariz., has not conceded the special election race to finish the Senate term initially won by the late Sen. John McCain, R-Ariz. There are also two competitive congressional races where each party holds fragile leads.
The nation was consumed Wednesday with the results of the White House battle between Biden, a former vice president, and President Donald Trump. Biden was positioned to secure the needed 270 electoral votes for victory after being declared the winner in the battleground states of Michigan and Wisconsin. As of Wednesday evening, Biden was one state away from becoming the next president.
Arizona, fueled by an influx of new voters, Hispanic voters and GOP crossover voters, deepened its claim as a swing state in 2020. It's why Trump now finds himself on the outside looking in.
"It's still a big gap to try to close," said Jessica Taylor, the Senate and Governors Editor for the nonpartisan Cook Political Report. "You have to win virtually everything, it seems like, that is coming in and … we don't see those typically break for one candidate completely. When you have an area that is as diverse but trending towards Democrats in Maricopa, that's tough."
Despite gains made by Democrats, Taylor and other political analysts agree that Arizona fundamentally remains a purple state.
"I still think this is probably a purple state that went blue this election cycle," she said. "This continues to be a battleground state and probably will continue to be."
Matt Grossman, political science professor at Michigan State University, echoed Taylor's assessment about Arizona's blue wave.
"It definitely doesn't mean it's forever," he said.
"People tend to think that elections build on themselves, but to the extent that one tells you something about the next, it's they're actually negatively correlated. When Biden is declared, the winner, that will mean that Republicans are instantly favored to win the 2022 midterm elections."
Rep. Ruben Gallego, D-Ariz., said Latino voters may wind up providing the margin of victory for Biden in Arizona.
"In 2016, I outperformed (Democrat Hillary Clinton) by 4,000 votes. I'm pretty sure Biden and I were even in my district. That makes a difference," Gallego said.
It suggests Biden likely did significantly better than Clinton with Arizona Hispanics everywhere else, too.
"The fact that he did probably saved the election."
Michael Frias, CEO of the Washington, D.C.,-based progressive firm Catalist that tracks voter data, said an emerging storyline in Arizona may be the turnout of Latina voters, whom Trump and Biden heavily courted.
The largest share of all early Latino votes in Arizona came from young, non-college educated Latinas between the ages of 18 and 29, he said, citing the firm's initial analysis of early-vote data as of Wednesday in the battleground state.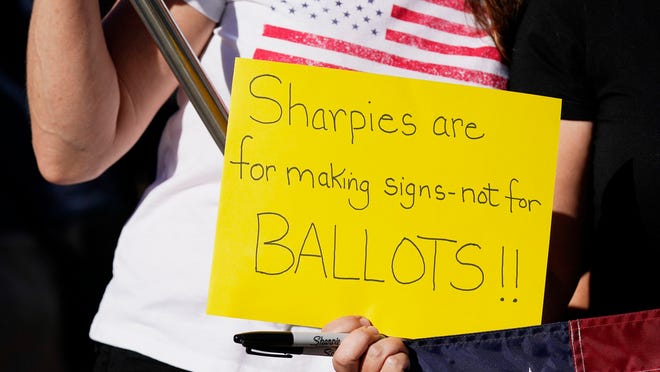 Four years ago, 226,000 Latinos voted in Arizona. This year, the number of Latinos who voted in Arizona nearly doubled to 413,000, he said. More than half of those votes were cast by Latinas. The largest group among those Latinas were non-college educated, young Latinas at about 46,000, he said.
"As we begin to examine the impact of the Latino vote across the country and in particular in Arizona, one trend appears to be clear: young working-class Latinas were a big part of the story," Frias told The Arizona Republic on Wednesday.
There will be many clues to the Arizona election to sort through over the coming months. One of them in the presidential race is how Biden appears to have greatly benefited from the lack of interest in third-party options.
As of midday Wednesday, Trump's share of the vote in Arizona had only fallen 0.4 percentage points in a state he won by 3.5 points in 2016.
But most of the votes that had gone to Green Party and Libertarian Party candidates in 2016, this year seemed to go to the Democratic candidate.
Consider Coconino County.
In 2016, Trump finished with 35.3% of the vote there. So far this year, he has 35.2%. But third-party candidates fell from 10.5% in 2016 to 1.9% this year. The rest went to Biden.
Statewide, third-party candidates garnered 7.3% in 2016. In 2020, that number fell to 1.4%.
Once again, Pima County provided heavy deficits for Republicans to overcome. In 2016, Trump lost in Pima County by about 57,000. His campaign made last-minute appearances in Tucson to try to cut into his expected losses there.
It didn't work: So far, Trump is losing in Pima County by 100,000 votes. McSally faces the same shortfall in her home county.
In Maricopa County, Democrats say the results reflect something deeper.
Voters in the most populous county are dissatisfied with current county leaders and policies, Democrats say. Republicans say the changes reflect a growing and more-diverse electorate.
The county is the fastest-growing in the nation and has long had mostly Republican voters. But now, the gap is closing between Republicans, Democrats and independents, making for a nearly even three-way split.
Most of the county's elected positions are held by Republicans, and some elected positions have lacked Democratic candidates in past elections. This year, though, all of the county Republicans on the ballot faced Democratic challengers.
And some of those challengers are now winning. Of 10 county spots, six Democrats were winning as of early Wednesday.
Some believe the county's handling of the COVID-19 pandemic frustrated voters enough to make them vote for Democratic candidates for the first time. The supervisors chose to require masks in public and made decisions on how to spend $400 million dollars in federal relief funding, including how much of that to use to increase coronavirus testing and contact tracing.
Some say the county supervisors didn't act fast or strong enough to curb the spread of the virus in the county, which was a hot spot this summer, but others say the supervisors went too far when imposing the mask mandate.
Democratic Party leaders, during a victory speech Tuesday night, nodded to how hard their party worked to reach out directly to voters and explain to them the importance of this election.
Maritza Miranda Saenz, executive director of the Maricopa County Democratic Party, told supporters Tuesday night the wins "are a direct example of what happens when you talk to Latino neighborhoods, when you talk to Black communities, when you talk to the LGBTQ communities about what is affecting them."
"When we bring forward qualified candidates we can win, and we can win with our democratic values," she said.
On seeing early results Tuesday, Maricopa County Democratic Party Chairman Steven Slugocki said the county "is going to lead the way to Arizona turning blue."
"This is something that we could have never dreamed of, even a few years ago," Slugocki said. "And here we are. This is an emotional night for me."
Aaron Connor, the Democratic candidate for Maricopa County assessor, said that the fact that Democrats down the ballot did well shows that people don't believe Republicans have handled COVID-19 well. He said the county's Democratic candidates are motivated to make a difference.
"I think we are ripe for change," he said.
Eddie Cook, the Republican candidate for the role, said he believes the shift to the center speaks more to the changing demographics, with younger families moving here to enjoy the county's quality of life.
Cook said that he sees the changes as being positive for the county because they bring more diversity. A former Gilbert councilman, he said that was always the goal when he was on the Town Council.
While Democrats have clearly made strides, they have yet to make important breakthroughs at the Arizona Legislature.
Plenty had viewed Democrats' takeover of the Legislature as an inevitability over the last few years as the GOP's majorities narrowed after 2018 to 31-29 in the House and 17-13 in the Senate.
It was not clear Wednesday that Democrats would win control of either chamber, though.
Early leads for some Democratic candidates evaporated in Republican-held districts around the state as Tuesday night turned into Wednesday morning. As officials continued to count ballots, Democrats appeared set to win one Senate seat that includes Paradise Valley and north-central Phoenix and a House seat in the Northwest Valley. Democrats were trailing close behind Republicans in a few other districts.
But they appeared to fall short of major victories in the legislative districts that span the suburbs and exurbs of Maricopa County. And flipping one seat in each chamber would not be enough to turn the Legislature "blue."
Still, the close results and the willingness of national groups to spend millions of dollars on Arizona legislative races goes to show how much opportunity Democrats see in the state Legislature. And on issues such as voting rights, Democrats nationally have seen how crucial state legislatures can be in states that are also battlegrounds for presidential campaigns.
"Both sides know how important state legislatures are," said Ben Wexler-Waite, communications director for Forward Majority.
The Democratic group aimed to flip several Legislatures around the country and said it spent $3.5 million in Arizona this year, up from $1.5 million in 2018.
Jon Seaton, a Republican consultant who worked for McCain, said Arizona remains a conservative-tilting state.
"Democrats poured millions of dollars into trying to flip one or both houses of the legislature and it appears they're going to fall short in both. Democratically-aligned groups poured a lot of money into Corporation Commission races; they're going to lose two of the three.
"The contours of the state are still center-right."