By Shaddi Abusaid, The Atlanta Journal-Constitution
(CNT) City News Talk #atlanta-ga
Use-of-force investigation underway, department says
Griffin police have launched an internal investigation after cellphone video surfaced appearing to show an officer tackling a high school student during an on-campus arrest Thursday afternoon.
Few details about what led to the incident at Griffin High School have been released, but the video appears to show two students — a boy and girl — speaking with a group of about five officers near the school's bus ramp.
The young man can be seen being placed in handcuffs as another officer moves toward the girl, who appears to be talking on her cellphone while sitting on a brick ledge. She tells the officer she's on the phone with her mother as he reaches out to grab her arms.
Once he touches her, the student stands up and can be heard screaming, "Get off of me. Don't do that."
The officer then appears to push her over the ledge, landing on top of her in the grass and she continues to scream.
The other student, seen in the video wearing a yellow hoodie, appears to grab the officer's shoulder in an attempt to get him off the girl before being taken to the ground by three other officers.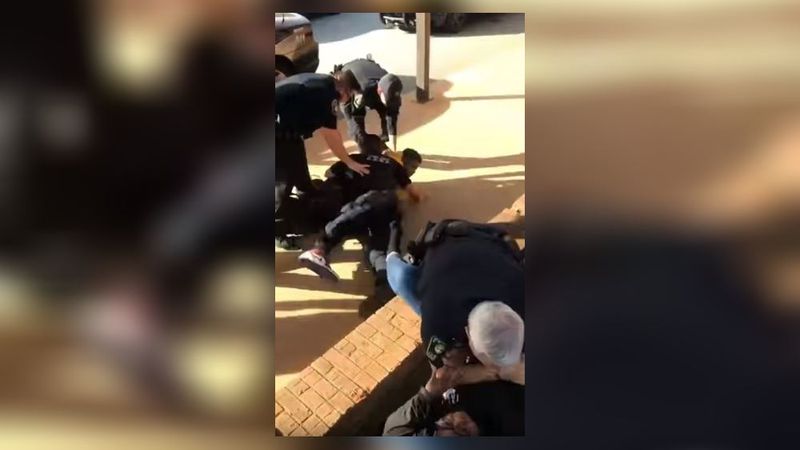 Adam Pugh, spokesman for the Griffin-Spalding County School System, confirmed that both students were transported off campus by school resource officers, though he declined to say whether they were arrested or charged. A letter sent to parents Thursday afternoon said the students "exhibited inappropriate behavior" at dismissal, but didn't say what that behavior was.
"I can't disclose any details of the incident or what led up to that video because it's protected by FERPA," Pugh said Friday, citing student privacy laws.
In addition to the Griffin Police Department's use-of-force investigation, Pugh said the school district has launched its own review of the incident.
In a statement posted to Facebook on Friday morning, school board member Syntel Brown said Griffin police should release body camera footage of the incident and turn it over to the school board. The letter was also signed by fellow member Zachery Holmes, who serves as the board's vice chairman.
"As representatives of Districts 1 and 3, we were shocked to see the interactions of all parties involved," the statement read. "While it is an ongoing investigation, the videos that are circling via social media are very disturbing and presents a grave concern."
The two board members who signed the letter are Black, as are the Griffin High students involved in the incident.
"The use of excessive force from police officers has been a concern nationally," Brown's statement said. "We must ensure that situations like this do not occur on our grounds, especially when professionals can use de-escalation tactics from both an educational and law enforcement perspective … It is now time for the Board of Education to employ its authority to help bring to an end the solely unjustifiable violence being perpetuated on black and brown scholars and families in our community."
AJC.com has requested a copy of the incident report from Griffin police and is working to learn more.