By Chelsea Prince, The Atlanta Journal-Constitution
(CNT) City News Talk #atlanta-ga
It may not be as bright as in recent days, but North Georgia should still enjoy nice weather Friday and this weekend.
More clouds in the sky Friday will mean less sunshine, Channel 2 Action News meteorologist Brian Monahan said. Still, with no rain in the forecast, he said it will be a great weekend for outdoor plans.
"The rain chances are as low as they get all the way through Monday," Monahan said. "There will be some clouds, but no rain to worry about."
The added cloud cover is actually keeping the region warmer, according to Channel 2 Action News. Friday morning is off to a milder start with temperatures in the upper 50s and low 60s in metro Atlanta, and the forecast calls for an afternoon high of 73.
That's about five degrees above average for this time of year, Monahan said.
"It's a lot warmer out there," he said. "Not that heavy winter coat weather. Maybe just a light jacket in town."
The weekend should see more of the same, according to Channel 2. Both Saturday and Sunday are expected to reach highs in the low 70s after mild starts. Monahan said "it should be smooth sailing for the weekend."
"Partly cloudy, a little breezy Saturday and Sunday, but we're looking good," he said.
The next chance of rain does not arrive until Tuesday. Eta, now a tropical depression in the Caribbean, is expected to move toward South Florida and send lots of tropical moisture over the Southeast, according to forecasters.
If it stays on that track, Monahan said the storm has the potential to bring rain to North Georgia by the middle to end of next week.
"Monday I think the rain is going to stay down in Florida," he said. "But by Tuesday, Wednesday and Thursday, we could feel the effects of that system in the form of a little rain here in North Georgia."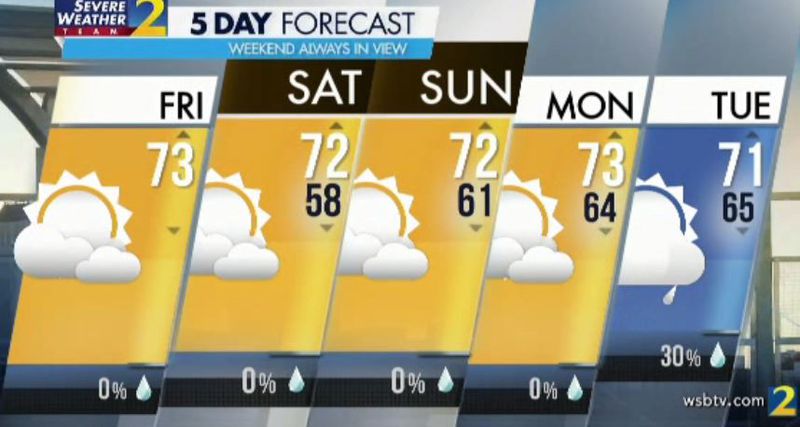 As for Friday, the added clouds could limit sunshine delays on the roads, according to Channel 2. WSB traffic reporter Mark Arum said he expects lighter than normal conditions for the morning commute, but the afternoon "is going to be extra heavy early."
"Watch for delays to start a little earlier than normal on this Friday evening through downtown Atlanta," he said.
Speeds of just 25 mph are expected on the Downtown Connector beginning at 4 p.m., according to the WSB 24-hour Traffic Center. The connector was delay-free in and out of Midtown to start the morning rush, with average speeds of about 66 mph, the Traffic Center reported.