Melissa Yeager, Arizona Republic
(CNT) City News Talk #travel-all
Online shopping and specialty shipments keep airlines buzzing at Sky Harbor despite the pandemic.
Eighty miles west of Phoenix, an asphalt road winds through the desert before turning to dirt. Eventually, it intersects with another road, where a sign points toward an emerging mirage resembling the Australian outback.
The road weaves through a lush forest of eucalyptus before ending at its caretaker's home. Dressed in a khaki-colored safari shirt and black Australian slouch hat, Paul Chambers hasn't lost his accent in the 20 years he's farmed this 240-acre property near Tonopah.
Chambers strolls through one patch of his more than 100,000 varieties of Australian native plants and trees before pausing to pluck a leaf and crush it between his fingers. It releases a rich lemon smell.
"The oil that comes out of that … citronella," he said.
Plants from his nursery, Australian Outback Plantation, festoon freeways in Arizona and California. He sells plants to Lowe's that people from Phoenix to Las Vegas put in their yards.
But his most important clients require fast delivery.
Every Monday and Thursday, two staff members clip fresh eucalyptus, wrap it in wet paper towels and pack it in boxes weighting 40 pounds each. Then they ship it via Southwest Airlines to 15 zoos around the United States that feed it to their koalas and other animals.
Airlines have suffered a steep drop in passenger traffic due to the COVID-19 pandemic, but cargo service is doing strong business thanks to the related increase in online shopping.
Using the same planes that take passengers in and out of Phoenix Sky Harbor International Airport, cargo service is helping airlines keep afloat thanks to the ability to quickly move certain goods — especially ones that are critical and perishable, like Chambers' eucalyptus.
"We're filling a niche," Chambers said. "This is a necessary thing."
Cargo shipping is on the rise during pandemic
When governments and public health officials issued travel restrictions and advisories in an effort to contain the spread of the new coronavirus in March, it affected nearly every aspect of business at Sky Harbor Airport.
Passenger traffic plunged overnight. Airlines rapidly cut flights. Restaurants and retailers inside the airport closed, hoping it would be temporary. Hundreds of rental cars sat still in parking lots around the airport.
But the amount of cargo shipped through Phoenix has increased in 2020, driven largely by online shopping.
The most recent statistics available from Sky Harbor show that from January to August this year, 271,262 tons of cargo passed through Arizona's largest airport. That's an increase of 6.7% over the 254,154 tons during the same period in 2019.
"Cargo operators have indicated that the normal slowdown following the winter holidays did not occur this year. They attribute this increase in online purchasing due to the COVID-19 pandemic," Krishna Patel, a spokesperson for Sky Harbor, said.
The lion's share of those goods arrived on cargo planes run by UPS, FedEx and Amazon. But commercial airlines also carry a significant amount of cargo, and some have leveraged that to make up revenue lost from the lack of passengers.
Behind the scenes look at little-known airline service: Freight
Australian Outback Plantation relies on Southwest Airlines to send fresh eucalyptus leaves overnight to zoos around the country to feed animals.
THOMAS HAWTHORNE, THE REPUBLIC | AZCENTRAL.COM
In August, Southwest Airlines transported 1,050 tons of cargo at Sky Harbor, making it the largest commercial airline moving freight through Phoenix.
"If it's critical and it has to get there today, commercial airlines are the way to go," said Wally Devereaux, managing director of cargo and charters for Southwest Airlines.
Why the belly of the airplane is so important today
Airlines have two primary sources of revenue, said Hitendra Chaturvedi, a professor in supply chain management at the W.P. Carey School of Business at Arizona State University. One of those is the passengers who fly in the top half of the aircraft. The other is transporting cargo.
"The belly of the airplane is a very big part of our commercial infrastructure and the airlines make a good amount of money moving these packages while they're flying you," Chaturvedi said. "In the olden days, what used to be carried was mail."
Now it's not just mail. Along with your luggage, airlines are carrying everything from medical supplies to fresh food for restaurants.

"I think that is surprising to a lot of people," Devereaux said. "They don't necessarily realize that the shirt they may be wearing or the computer they are using or the seafood they had for dinner actually moved on a commercial airline like Southwest or other carriers."
It's difficult for airlines to quantify how important cargo service is to their bottom lines right now. Anecdotally, airlines say cargo is helping them make up some losses. But it's hard to compare statistics year over year.
Airlines have cut their schedules and that means fewer planes available to carry cargo. For example, in August, Southwest operated 150 daily flights out of Sky Harbor compared to 195 in June 2019.
Yet with fewer passengers and less luggage to carry, many planes have more capacity for cargo than they normally would.
With those complicated factors in play, Southwest reported during its third-quarter earnings call on Oct. 23 that it made $118 million on freight service during the first nine months of 2020 compared to $121 million during the same period in 2019, a decrease of 2.4% at a time when its passenger revenue dropped 72%.
Some commercial airlines have started operating cargo-only flights. For instance, American Airlines has always offered to deliver cargo in its passenger aircraft. But this year, it basically created its own cargo airline, operating 982 freight-only flights in September to destinations such as Beijing, Tokyo and London.
Behind the scenes at Southwest cargo shipping in Phoenix
As the sun rises above Sky Harbor Airport on a Wednesday morning, Southwest's cargo facility is buzzing. It's 6 a.m. and employees are welcoming trucks from vendors, unloading and doing security screening on the packages before sorting them to load onto planes.
Boxes marked "LIVE TROPICAL FISH" in big blue letters are stacked in one area. Those just arrived on a flight from Orlando, Florida, and will be loaded on a truck for delivery to pet stores in the Valley.
Along the wall, coolers store other perishable items, like seafood for local restaurants and flowers headed to florists, until the trucks that will take them to their final destinations arrive.
"We move a lot of highly critical, even life-saving, medical-related commodities," Devereaux said. "We move organs for transplant, for example, every single day."
That's not the only sensitive material the airline ships. Off to the side is a large metal carrier marked "Southwest" that will be loaded on the aircraft first. It's not apparent what's inside, but it holds the remains of someone's loved one who has passed away, destined for a final resting place.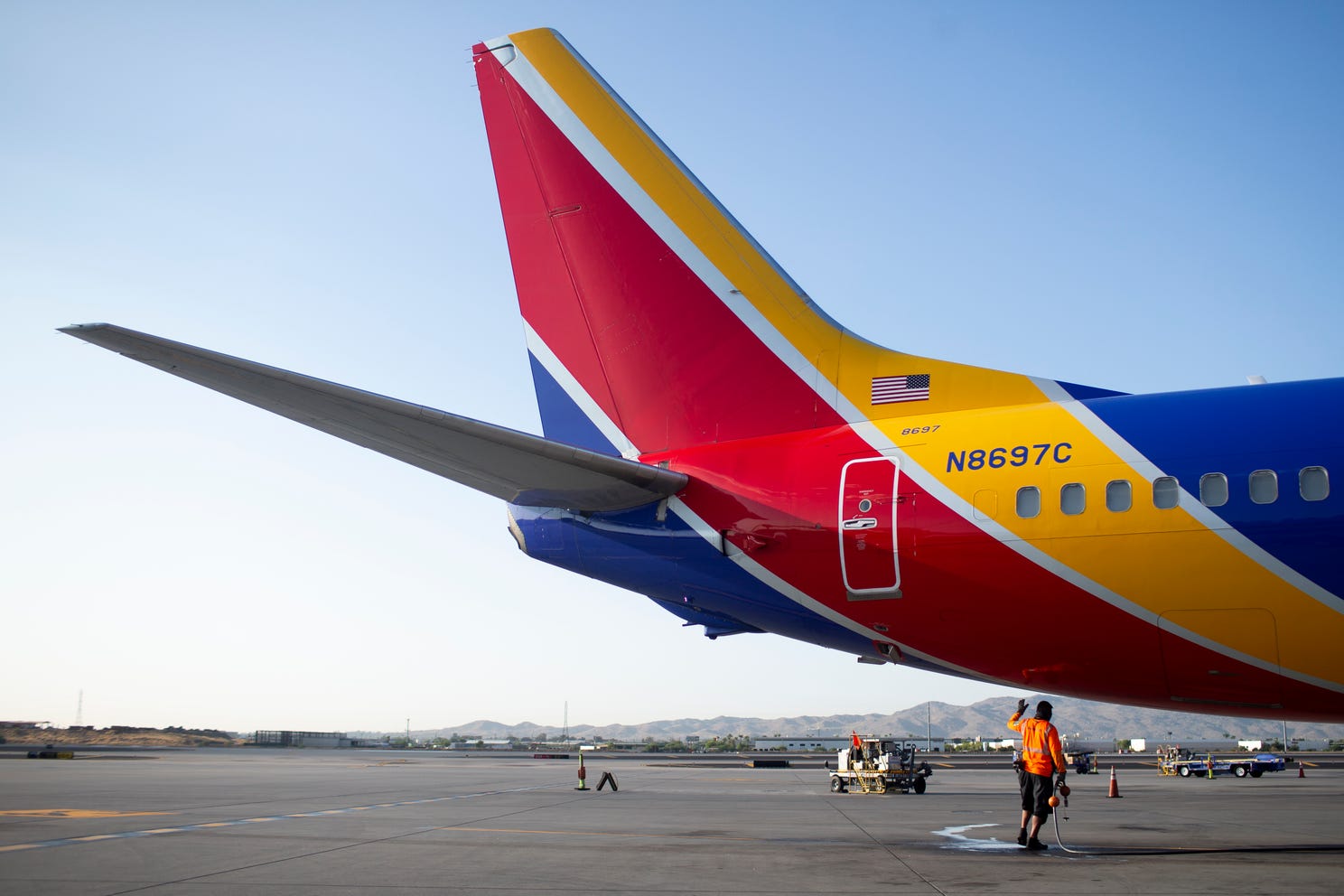 Here's what's being flown as cargo
The types of things airlines transport has changed a little due to the pandemic, partly because of some industries' canceled orders and lack of business.
"We saw a lot of commodities that we carried a lot of really declined dramatically as businesses closed and restaurants closed," Devereaux said. "Then, you saw this significant offset and a lot of that related specifically to e-commerce."
Deveraux said Phoenix has been especially busy due to the number of order fulfillment and distribution centers in the Valley. According to the Arizona Commerce Authority, Arizona has 1,284 fulfillment and distribution centers for companies of various sizes including Amazon, PetSmart and REI.
The airline also transports a lot of specimens and other medically related items to Phoenix. And it has seen an increase in medical supplies like personal protective equipment.
Southwest's main competitor at Sky Harbor, American Airlines, has seen the same.
"Since March, we have moved more than 6,000 pounds of medical-related cargo through Phoenix Sky Harbor International Airport," Derrick Chengery, a spokesman for American Airlines' Airport Excellence and Cargo division, said when reached by email.
Teaming up to feed a zoo's koalas
As someone who depends on commercial airlines to deliver perishable packages to the country's zoos, Paul Chambers knows what would happen without that service. After 9/11, when air traffic stopped for several days, he got in a truck and drove the eucalyptus to its destinations.
"We had to drive the leaves to the Houston Zoo. We had to drive the leaves to the Cleveland and Columbus zoos," he said. "You can't call up a zoo and say, 'Oh mate, I'm sorry.'"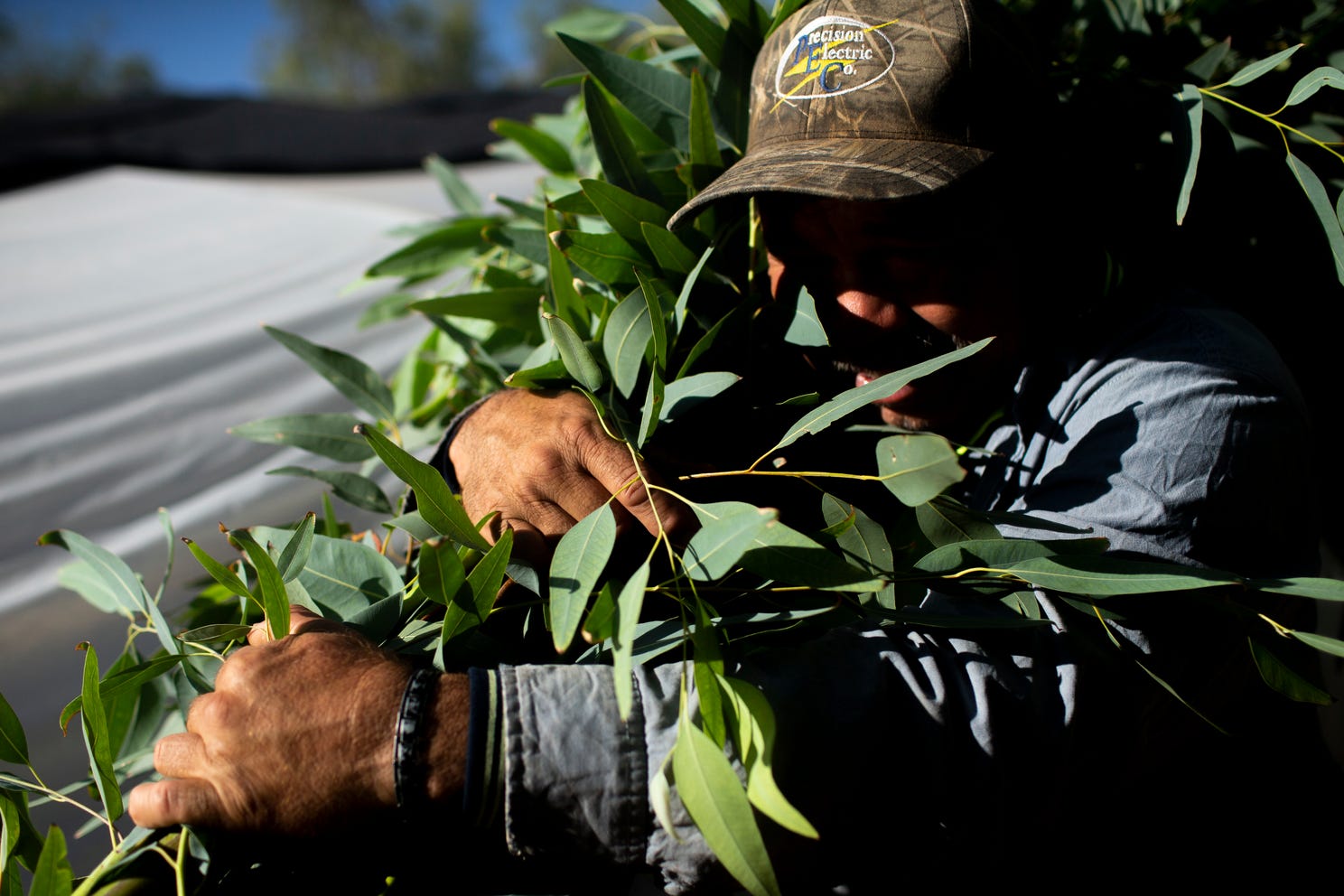 The coronavirus crisis delivered Chambers a different challenge. Zoos are his primary customers, and they lost significant revenue when they had to close their gates to help stop the spread of the virus.
The Denver Zoo, which closed for 87 days, told Chambers it would have to hold off on buying eucalyptus until revenue resumed. Chambers said he was told they planned to switch the animals to less expensive pellets.
That broke Chambers' heart. He told the zoo he would donate the leaves if Southwest could donate the shipping to get it there. The airline agreed.
"When we heard about the need from the Denver Zoo, we immediately went to work and I made sure we could make the shipment happen since assistance is just a flight away," Dan Landson, spokesperson for Southwest Airlines, said in an email to The Republic.
Jake Kubié, a spokesperson with the Denver Zoo, said Chambers donated $4,345 worth of food for its animals while Southwest covered the $1,935 it would have cost the zoo in shipping.
"We can't overstate how meaningful and important it has been to have our community of supporters and partners step up at a time when we needed it more than any other time in our 124-year history," Kubié said when reached by email.
Kubié said the zoo continues to recover from the financial impact of COVID-19, "but our 3,000 animals continue to receive that same excellent level of care thanks to incredible partners like Paul, our dedicated Animal Care team, as well as so many others in the community that have supported Denver Zoo during this challenging time."
Chambers is glad he could arrange to help.
"If it wasn't for Southwest coming to the party, then we really would have had some problems here," Chambers said.