Yvonne Wingett Sanchez | Arizona Republic
(CNT) City News Talk #arizona
With Sen.-elect Mark Kelly's arrival in the U.S. Senate, Arizona will have a pair of Democratic senators for the first time since 1953, ushering in a new era of centrist representation in the upper chamber in what was once a reliably red state.
Kelly unseated incumbent Sen. Martha McSally, R-Ariz., in Tuesday's special election to fill the vacancy left by the 2018 death of Sen. John McCain, R-Ariz. Kelly will fill the final two years of McCain's last term, which expires in 2023. The win gave Democrats a pick-up that will narrow their margins in the GOP-controlled chamber.
Kelly is already drawing support in his transition from some of the Democrats' biggest names from Arizona, and even some of McCain's allies.
In electing Kelly, a retired Navy combat pilot, NASA astronaut and husband to former Democratic Rep. Gabrielle Giffords, voters rejected McSally's embrace of President Donald Trump, who is trailing in Arizona to Democratic presidential nominee Joe Biden.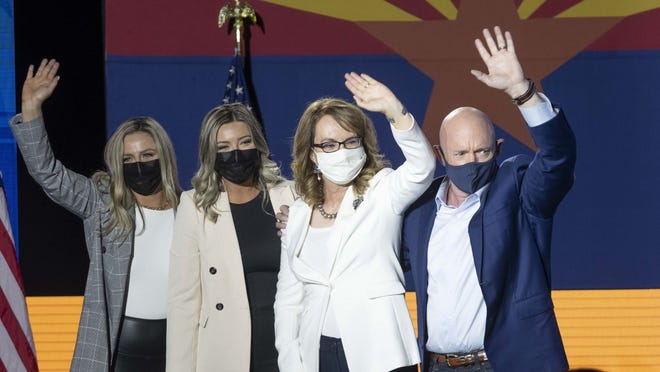 Kelly could take office within weeks, after Arizona's elections are scheduled to be certified. He will serve alongside Sen. Kyrsten Sinema, the moderate Democrat who beat McSally during her first Senate run for the state's other seat in 2018. They will become the first Democratic duo to represent Arizona in the Senate since Sens. Carl Hayden and Ernest McFarland served together in the 1940s and early 1950s.
Kelly presented himself as an alternative to McSally's more partisan style.
In an interview Friday with The Arizona Republic, Kelly reiterated his campaign pledge to work alongside Republicans and Democrats to advance issues most important to everyday Arizonans, namely the issues of health care and insurance coverage for people with preexisting medical conditions, climate change, and protecting Social Security.
"I value independence and I value and I respect the way that John McCain did the job and also the way my wife, Gabby, did the job, working across the aisle, trying to get the politics and the partisanship out of the decision-making," he said. "I'm committed to doing that, you know, relying on the science and the data, and the facts, not worrying about the next election and just trying to do the work and do the job so it benefits our state and our country."
For Sinema, Kelly's arrival gives her the Senate partner she has not had for the past two years with McSally. The two never repaired their relations after the bitter 2018 Senate race, but their offices worked together on legislation and judicial nominations.
A first-time candidate but no stranger to politics, Kelly ran his year-and-a-half-long campaign as a moderate Democrat, much in the mold of Sinema. Neither is a firebrand liberal, and both are unlikely to stray from the political middle because of Arizona's divided politics.
Kelly has been on the phone almost around the clock, speaking with leaders of cities, towns, and tribal communities, heads of nonprofits, and senators from both sides of the aisle who are welcoming him to their 100-member club.
Since The Associated Press called the race for him early Wednesday morning, he has talked with Sinema, who provided counsel during his campaign and cut TV and digital ads. He's also talked with Sen. Mitt Romney, R-Utah, outgoing Sen. Tom Udall, D-N.M., Sen. Michael Bennet, D-Colo., and former Sen. Jeff Flake, R-Ariz.
One person he had not spoken with as of Friday was McSally. She had not publicly conceded the race by Friday afternoon and had not reached out to Kelly in private.
With Kelly's transition to the Senate quietly underway from his makeshift war room at his home in Tucson, he will spend the next few weeks huddling with a tight team of advisers helping him navigate his next steps.
They are assessing Senate office space, staffing, committee assignments, legislative priorities, and more practically, what his travel schedule could look like.
"At the top of this list is: how do we deal with this public health crisis and the economic crisis," Kelly said. "The first step is building out this team that has a lot of experience and is looking forward to helping and bringing their experiences to the group to help us make the best decisions possible."
Kelly's transition team, disclosed to The Republic on Friday, is reflective of the broad coalition he sought to appeal to during his campaign.
It is co-chaired by Sharon Harper, a longtime friend of the McCain family and local businesswoman who serves on the board of the foreign-policy think tank at Arizona State University that bears McCain's name.
Harper said Kelly's team demonstrates his desire to represent all Arizonans.
"It will be in the tradition of Senator McCain: Arizona first, country first, and I think he demonstrated this," she said.
Also co-chairing the team is Luis Heredia, a Yuma native and executive director of the Arizona Education Association who previously worked for Rep. Ruben Gallego, D-Ariz.
Beyond them, Kelly will be aided by leaders from a nonprofit, a labor union, the mayor of Flagstaff, tribal members, business leaders, and a University of Arizona epidemiologist working on modeling the COVID-19 pandemic, as well as others with backgrounds in some of the state's most pressing issues.
In the near term, Kelly and Sinema will work on a coronavirus relief package to help Americans reeling from the economic fallout of the pandemic.
Each has called for additional financial relief for local and tribal governments, schools, and health care workers.
As seatmates, Kelly and Sinema will build on their already friendly relationship.
"She's been very, very helpful and supportive and there's a lot of stuff we agree on," Kelly said. "And I think we're going to be able to work together in a very positive way to help Arizona."
Sinema, who became the first Democratic senator to win Arizona in three decades with her win in 2018, agreed.
"Cutting through Washington dysfunction to solve problems for Arizonans and get results for our state requires hard work and an ability to reject partisanship and political games," she said in a written statement to The Republic. "Mark has shown he's ready to do just that, and I look forward to partnering with him to continue getting things done for the great state 48."
She has directed her team to help Kelly set up his office, a complex process that involves navigating a setup of offices in Arizona to help constituents with issues involving federal agencies.
Janet Napolitano, who served as Homeland Security secretary under then-President Barack Obama and before that as Democratic governor of Arizona, worked with Sinema during her time running the state.
She said Sinema will want to get to know Kelly better than she already does, get a better sense of his interests, and find some areas they can work together on.
"They'll both put Arizona first," Napolitano said, adding, "He'll be a valued and valuable contributor (to the Senate).
"As far as he and Sinema, I think they'll both be working with Arizona's interests at heart," she said. "I think it's a really good pair of senators."
Phoenix Mayor Kate Gallego, who has worked closely with Sinema on trying to secure additional federal aid related to the pandemic and campaigned for Kelly, said Kelly's arrival in the Senate will further bolster efforts that Sinema has made to advance the city's needs.
Beyond the pandemic, Gallego said Kelly has shown interest in the city's affordable housing projects and more broadly the issue of affordable housing in the city.
"Just really talking to average Arizonans about how they can pay their bills and get through their many challenges," she said. "That was pre-COVID, so those challenges are even greater now. He seems to genuinely enjoy being out in the community and talking with people."
With their "professed partisan independence," former three-term Sen. Jon Kyl, R-Ariz., said he expects neither Kelly nor Sinema will be overly partisan, particularly if Republicans maintain control of the chamber.
Compromise, Kyl said, will be key to fairly representing Arizonans.
"I would hope that they both learn a lesson, which took me a while to learn," Kyl said. "But that is: If you're elected by 55 percent of the people and 45 percent of the people voted against you, it's pretty hard to disenfranchise that 45 percent. You really need to pay attention to what they're saying, and the way that you can serve them is by being willing to negotiate and compromise with your opposition, so that instead of insisting on getting out of your way all the time, if you're willing to compromise 10 or 20 percent, then to some extent you are representing the will of the minority in the state."
Former three-term Sen. Dennis DeConcini, the last Democrat to represent Arizona in the Senate prior to Sinema, predicted Kelly will find bipartisan compromise where he can. A longtime friend of Kelly and Giffords, DeConcini said Kelly's wife, who resigned from the House of Representatives after surviving a mass shooting in 2011 near Tucson, will be her husband's closest adviser.
"She will have an opinion," DeConcini said. "But Mark's going to make his mind up. He's not going to be told what to do by anyone. He's a very smart man and a very determined man, but he knows how to compromise. To me, that's one of Giffords' great gifts when she was a congresswoman. She knew how to compromise, and to me, that's what good government is about."