By Shaddi Abusaid, The Atlanta Journal-Constitution
(CNT) City News Talk #atlanta-ga
Metro Atlanta is in store for another nice day on Sunday, with sunny skies and highs in the low 70s.
The warm fall weather should make conditions perfect for getting outdoors, Channel 2 Action News meteorologist Eboni Deon said.
"These afternoon highs are not looking bad at all," she said. "Your weekend plans are still a go."
While a 10% chance of showers is possible on Sunday, the rain won't be very widespread, according to the latest forecast.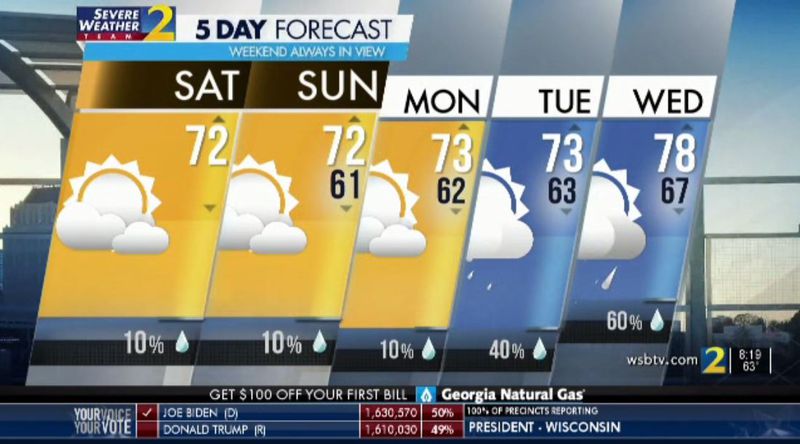 "We're not expecting to see much in the way of rain at all," Deon said, adding the "spring-like warmth" should stick around through the remainder of the weekend.
Tropical Storm Eta could bring showers to the state in the next few days, but the wet weather isn't expected to reach North Georgia until Tuesday or Wednesday, Deon said. The storm, which left dozens dead in Central America, is expected to reach South Florida late Sunday before continuing north into the state.
A 40% chance of rain is forecast for Tuesday and the chance of showers jumps to 60% on Wednesday.
Georgia Department of Transportation crews expect to take full advantage of the dry weather this weekend, and the agency cautioning residents to prepare for "major delays" as roadwork continues on the Perimeter.
In Cobb County, two southbound lanes of I-285 will be closed between Paces Ferry Road and South Cobb Drive for 12 hours on Sunday as part of a 17-mile resurfacing project, officials said. All lanes should reopen by 9 p.m.
Drivers should also expect delays at the I-285/Ga. 400 interchange as roadwork continues there.