By Chelsea Prince, The Atlanta Journal-Constitution
(CNT) City News Talk #atlanta-ga
Rain chances are on the way up this week as yet another tropical system bears down on the Southeast, according to Channel 2 Action News.
Tropical Storm Eta, the 28th named storm of the Atlantic hurricane season, is spinning west of Miami on Monday morning. Channel 2 meteorologist Brian Monahan said the storm will bring rain to North Georgia, but it could take some time to arrive.
He does not expect the rain to ramp up locally until the middle of the week. Monday will see more clouds than sunshine, with just a slight shower chance, according to Monahan.
"A little drier for us today than it's going to be the rest of the week,"' he said. "Today and Friday are going to be your driest days."
Monday's rain chance is sitting at 10%, according to Channel 2. That increases to 40% Tuesday and 80% Wednesday, which will likely be the wettest day of the week.
"This will not be like what we saw with Zeta a few weeks ago," Monahan said.
Any showers Monday should be fast-moving, he said, similar to Sunday afternoon's rain pattern. He said there will be no big weather impacts to travel Monday.
"It's going to be mild," Monahan said. "Low 70s for us by noon today, and we're going to do that under a mix of clouds and sunshine."
Atlanta's projected high is 76 degrees.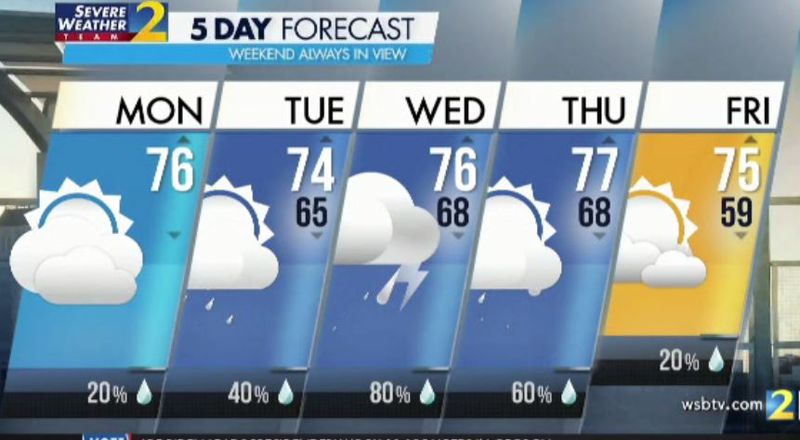 Most interstates are moving fine to start the Monday morning drive, but there is an early snag on the southeast Perimeter, according to the WSB 24-hour Traffic Center.
A crash with injuries on I-285 East at Jonesboro Road was blocking multiple lanes at 6 a.m.
"Early delays heading between I-75 and I-675 through Clayton County," traffic reporter Mark Arum said. Both I-75 and I-675 are good alternates to bypass the backups, he said.
Traffic is much smoother downtown. Arum said the start of the morning rush was "calm and peaceful" on the Downtown Connector. It will likely be slow, but pretty average, this afternoon, according to the traffic forecast.
"Our triple team traffic forecast is probably a typical p.m. drive," Arum said. "No major events downtown. We'll start slowing at 4 p.m. to 25 mph."