THERESA NORTON | TravelPulse.Com
Troy Warren #travel-all #picks-all

As Royal Caribbean International prepares to restart cruising June 12 from Nassau in The Bahamas, Vicki Freed, Senior Vice President of Sales, Trade Support and Service, offered some advice for travel advisors, who may be facing overwhelming demand for these first voyages.
"We are super excited!" Freed said in a phone interview with TravelPulse. "We are glad to be coming back."
Freed noted that advisors have a week before they can start booking the Bahamas cruises on Adventure of the Seas. They open for sale on March 24. So, what's the first step?
"They should definitely be reaching out to their prospects and their clients. And the first people I'd be reaching out to are the people with future cruise credits (FCCs). They are people that were booked but they did not want a refund because they said, 'no, we love Royal Caribbean, we're going to be cruising when they're ready to cruise.' So those are the people that we want to first get secured on a cruise," she said.
Freed believes agents will be inundated with questions about the cruises, seeking guidance on vaccines, testing, masking, etc. Vaccinations will be required for adults, and those under age 18 will need proof of negative RT-PCR test results. The final health and safety protocols are still being finalized, but agents can review Royal Caribbean's policies thus far by clicking here.
Travelers also must meet the requirements of The Bahamas, which are detailed on the country's website here.
Agents can also assure clients that Royal Caribbean already has successfully operated cruises out of Singapore and is set to go with a new program in Israel.
So be prepared with the most recent information, because past and new clients will be calling.
"I think there's such pent-up demand. People missed their vacations in 2020 and many people thought 2021 was not going to happen for vacations. And so, people are ready. I know our loyal Crown & Anchor people (past guests) are jumping at it," Freed said.
One major point agents should promote is the two-day visit to Perfect Day at CocoCay, Freed added.
"We cruise to hundreds and hundreds of ports around the world, and our number-one rated guest satisfaction port of call is Perfect Day at CocoCay," she said. "And the fact that on this itinerary you're getting two days at Perfect Day at CocoCay. We have the thrill and the chill sides of the island. One day you might want to do the thrill side with all the water slides. The next day you may just want to chill. People have always been saying 'why don't we spend more days at Perfect Day at CocoCay?' This gives everyone that opportunity now."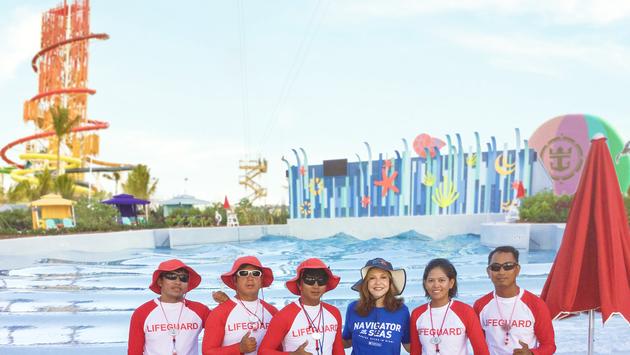 She also recommends talking about the ship and its amenities.
"It's important to talk a little about the Adventure of the Seas and what a beautiful ship she is," Freed said. "It's not just the ports of call – they're important, but the ship itself is such a spectacular ship. It's a Voyager-class ship that had sort of a mini facelift in 2018, and she looks beautiful. She has many of the Royal Caribbean bells and whistles, including the FlowRider, a lot of pool activities, a lot of the slides onboard, ice-skating shows, and then of course, our award-winning entertainment."
"Nobody wows the guest experience like Royal Caribbean," she continued. "We're going to be back in a big Royal way, and the guest experience is going to be a really fantastic vacation."
The experience will likely be further enhanced by reduced capacity at first, and then new features on the technology wristbands, like e-mustering. Previously, shortly after boarding the ship, everything shut down and people gathered at lifeboat stations, sometimes shoulder-to-shoulder out on deck, while the drill was underway. No more. The new safety drill was developed during the pandemic.
"It was always in our daily plan to do. E-mustering makes the entire experience so much better for the guest," Freed said. "Now we go through the safety drill on your device, your mobile phone or even the stateroom TV. And once you've completed the safety drill, you go to the lifeboat station, you meet with the crew member at the lifeboat station, he checks you off, and asks if you have any questions. It's a more personalized experience."
The summer Bahamas season currently is expected to continue through August. What happens after that? Will they continue or will cruising resume to more normal operations from the U.S. or elsewhere by then?
"All of our crystal balls have had a few cracks in them over the past year. I've started using a Crazy 8 ball now," Freed joked. "The world is changing, we know that, day by day. None of us can predict what's going to happen after August. But I suspect cruising will be back in a much stronger, bigger way. Time will tell."