LACEY PFALZ | TravelPulse.Com
Troy Warren #travel-all

The new Hilton Aventura Miami hotel opened on March 23, 2021, with close proximity to two major airports, beautiful beaches, world-class shopping, golf courses and more.
The hotel was designed by Prime Design Associates to reflect a modern design with an artistic flair. Garage murals and in-room art canvases attract the eye, while the neutral colors of the rest of the hotel's interior offers serenity.
Many of the guest rooms and suites have floor-to-ceiling windows and modern touches, like leather headboards and black and white accents.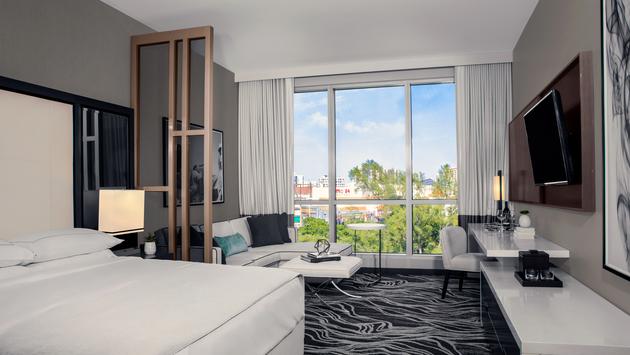 The hotel's seventh floor is the heart of the hotel, which features the black-and-white lobby, a deck where guests can find the hotel's restaurant, called Gala, MuseBar, the hotel bar, as well as the hotel pool with private cabanas and views of Aventura.
Gala serves all meals with indoor and outdoor seating arrangements. The menu is inspired by South American dishes and Miami's love for fresh seafood and tapas. MuseBar will offer lighter food and cocktails in a more formal setting. The pool also features the Pool Bar, which besides serving drinks also serves sandwiches, salads and more.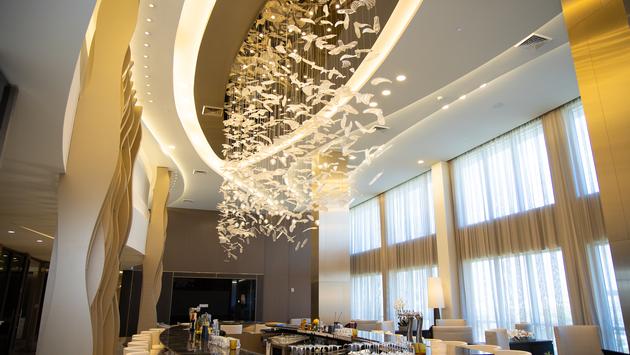 The Hilton Aventura Miami has over 15,000 sq. feet of indoor and outdoor function space, the second-largest in Aventura. With a grand ballroom, six breakout rooms, an event-dedicated kitchen and on-site audio-visual services, the hotel is a prime destination for any type of function. The hotel is also participating in Hilton's EventReady with CleanStay to help make planning events safer throughout the pandemic.
"While the hotel has a prime location right across from the Aventura Mall, we look forward to welcoming travelers and locals alike with amenities beyond the optimal shopping location," said Kai Fischer, general manager, Hilton Aventura Miami. "We plan to create an ambiance that is welcoming to all by offering premium amenities for the discerning luxury traveler, as well as vibrant lifestyle amenities for those seeking to socialize and relax in an upscale, yet laid-back environment. I'm particularly excited to see the Executive Lounge and pool deck come to life. As we move into 2021 and beyond, we look forward to showcasing our grand ballroom and event spaces for special occasions, conferences and weddings."