By Mahira Rivers | FoodAndWine.Com
Troy Warren #foodie-all

Love, Nelly was forced to improvise during the pandemic, and the bakery has emerged even stronger as COVID restrictions wane.
At Love, Nelly, a bakery in Ocean Hill, Brooklyn, the beef empanadas are as big as a fist. The bronzed, deep-fried dough pinched around a generous filling of minced beef is both flaky and flexible. Stephanie Gallardo perfected the recipe for those empanadas before she opened Love, Nelly with her business partner Keavy Landreth last July. Gallardo, whose parents are from South America, is on track to become a co-owner of the bakery, which puts her in a small but growing class of Latinx restaurant owners. Opening against the backdrop of a public health crisis, which took a disproportionate toll on communities of color, and as restaurant workers finally had a platform to speak out about substandard wages and mental health, Gallardo and Landreth felt a sense of urgency to get their new business right-for everyone.
Love, Nelly was originally meant to be an extension of another Brooklyn bakery-slash-bar called Butter & Scotch, where Gallardo had been working as general manager alongside Landreth (who co-owned the bakery with Alison Kave). Landreth was looking for a bigger production kitchen to crank out the bakery's fan-favorite birthday cakes, but the details just weren't coming together. Ultimately, she scrapped the expansion and gave Gallardo creative space to design her own concept. "We were having a really hard time," Landreth said. "But once we figured out the shaved ice and empanadas, Love, Nelly just immediately happened."
The two also decided to test a no-tipping service model in order to offer their staff some stability as hours and profits dwindled during the pandemic. A job at Love, Nelly currently pays $20 an hour, five dollars above New York's minimum wage. A unilateral increase in retail prices helps to cover some of the costs, though not all. Currently, payroll is about half of the bakery's overhead, which is significantly higher than sustainable industry standards. But it's a commitment to the people and so far, it seems to be sending the right message. "Everyone is very happy to be here," Gallardo said. "We make sure to listen to what everyone has to say. We care about each other."
Gallardo's nostalgia shaped many aspects of the bakery, which is named for her mother, Nelly, who is Colombian. The shop is drenched in transportive azure blues and peachy pinks and the menu is full of empanadas and raspados(Colombian shaved ice), which were a staple of Gallardo's childhood years in Texas and New York, and summers spent in South America. There are cookies, cakes and seasonal loafs, which are tucked into every corner of the store. There's also a freezer with empanadas to take-and-bake. And a merch and pantry corner with Love, Nelly mugs, rainbow sprinkles and bottles of homemade cilantro aioli and vinegary aji verde. It may be hard to choose favorites-but that's kind of the point. "We want to give everyone everything," said Gallardo.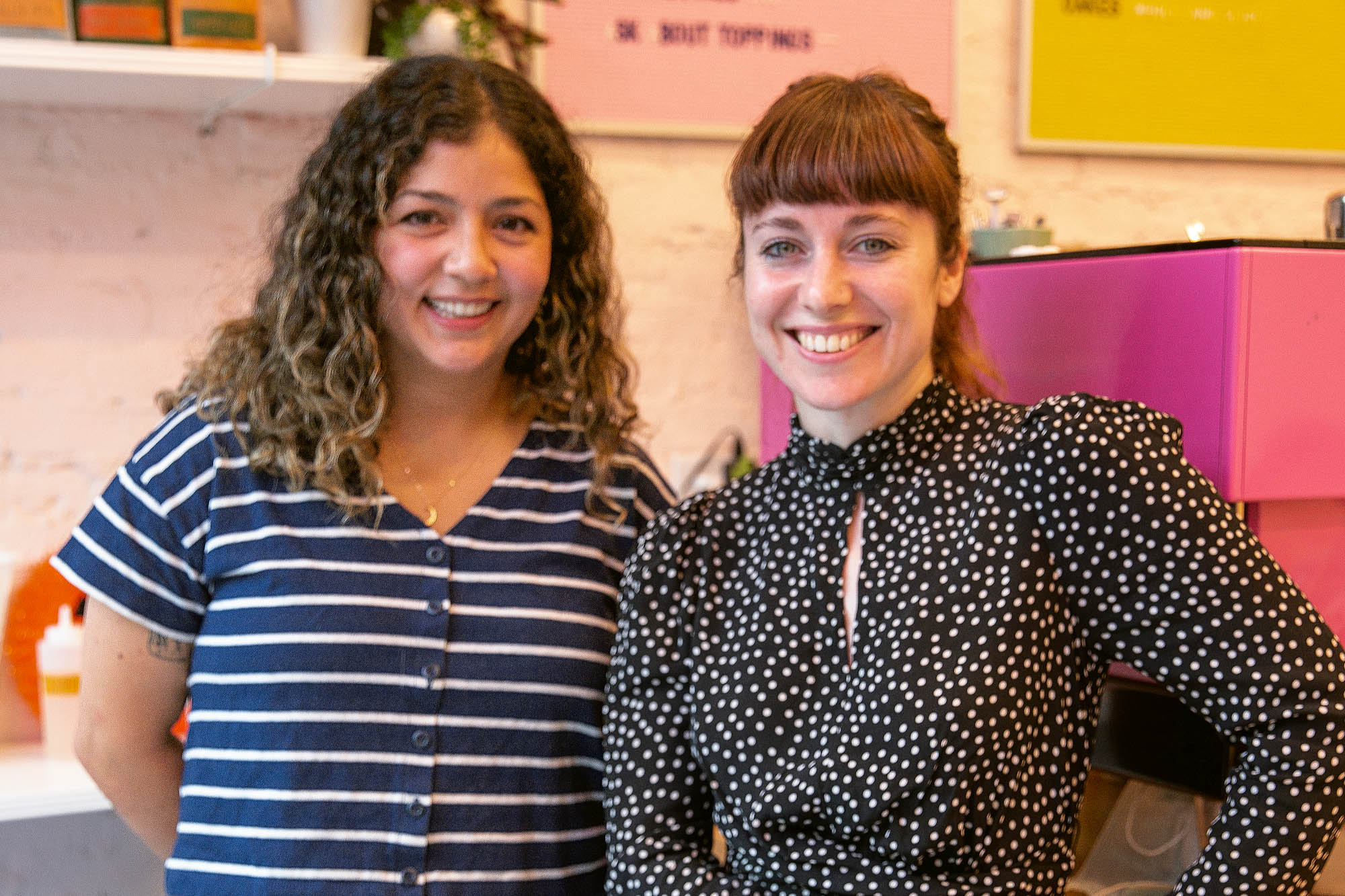 Online, Gallardo and Landreth sell monthly care packages inspired, again, by Nelly. The logistics are complex, but the boxes have been a reliable source of sales since they launched last fall (and a way to stay close with friends and family during the pandemic). June's box will include a pineapple cocktail, a novelty cocktail cup and ingredients for the bakery's tres leches cake-a milk-soaked version of the signature Butter & Scotch birthday cake. Unfortunately, due in part to a significant loss of customers in the pandemic, Butter & Scotch closed a few months after Love, Nelly opened, but Gallardo and Landreth continue to sell the cakes out of the Love, Nelly kitchen.
What has helped the most financially is the government aid that became available in the pandemic. Small business loans and the most recent round of government grants provided a safety net, something Landreth thinks should be made permanent, almost like a federal subsidy. That idea may be an outlier in the theoretical toolkit for fixing an imperfect and often exploitative industry, but it gets to the heart of the issue-business owners who want to build a healthier restaurant industry, from paying livable wages to offering health insurance and employee equity, need money to do it.
Luckily, as co-owners, Gallardo and Landreth share the responsibilities as well as the risk. "I always wanted to own a business, but I knew it would be incredibly hard to do alone," Gallardo said, citing both the financial costs and the scarcity of intangible resources like time and knowledge. That Latinas have less access to capital when starting a business is a fact, so finding experienced partners who know how to navigate the bureaucracy is vital to growing a more diverse community of restaurant owners.
If it sounds like Gallardo and Landreth have a lot going on, they do. From the snacks and packages made with care and skill to the mindful people policies and the intentional uplifting of exciting new talent-there are so many reasons to root for Love, Nelly's success. It's truly impossible to pick just one.